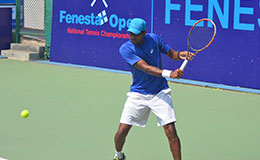 New Delhi: Seasoned star Vishnu Vardhan, 2013 winner MohitMayur and regulars in the Capital VM Ranjeet and Nitin Kirtanne will lead the challenge in the men's section in the Fenesta Open National Tennis Championship at the DLTA.
In the women's section, Riya Bhatia, Rishika Sunkara, DhruthiVenugopal and PranjalaYadlapalli will aim to win the coveted title.
The qualifying draw matches began on Saturday and the Main Draw will commence on Monday.

As always, the Fenesta Open promises plenty of thrilling action in the Senior section and the Junior events -- under-18 boys and girls. For a tournament which has been a platform for rising stars to showcase their talent over the last two decades, the next two weeks will be hectic in the Capital.

The popularity of the event has been high and this time promises to be no different as DCM Shriram and Fenesta the organizers are leaving no stone unturned to make it a grand success.

Participation in the Fenesta Open is from all parts of India and with good prize money and scholarship money on offer, it is expected the quality of tennis will be good.
Men's Top Ranked Players:
Vishnu Vardhan (Runner's up 2015) (Winner 2014) (Runner's up 2011)
Mohit Mayur (Winner 2013)
VM Ranjeet
Nitin Kirtanne

Women Top Ranked Players:
Riya Bhatia
Rishika Sunkara (Runners up 2012)
DhruthiVenugopal
PranjalaYadlapalli
Boys Under 18 Top Ranked Players:
B.R Nikshep (Winner 2015)
Dhruv Singh
Nitin Kumar Sinha
Aditya Bisht

Girls Under 18 Top Ranked Players:
Zeel Desai (Winner 2015)
Vaidehi Chaudhri
Shaik Humera
Akanksha Bhan