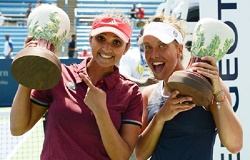 Cincinnati: World Co-No.1s Sania Mirza and Martina Hingis reached the Western & Southern Open final, but this time they weren't partners, but were on the opposite sides playing each other -- Mirza with Barbora Strycova and Hingis with CoCo Vandeweghe. However, in the battle of supremacy Mirza-Strycova came back from 1-5 behind in the opening set to beat Hingis-Vandeweghe, 7-5, 6-4.
"I'm not going to lie," Mirza said after the match. "It's a very difficult situation. It's not easy because, A, because we are still good friends, so it's never easy. The first we tournament we split and we come and we have to play each other. Of course there is no better match to play than the final, so was difficult, I think for both of us. Having said that we are professional tennis players. We have to come out and we have to give our best and we have to try and win. That's all we can do, and we both tried to do that," said Sania after the match.

Hingis and Mirza, who were playing their first tournament apart since officially confirming their split last week, also had the No. 1 ranking at stake as only one could remain No.1 as the points earned this week would be counted among their best results that make up their WTA ranking total. And Mirza after winning the tournament took sole possession of the WTA doubles number one ranking in Cincinnati.
"A ranking is really just a number. For us it's important to win every time we play. We both fight; we both like to play and we both like tennis obviously," said Sania.

"She was obviously one of my first choices because I felt like we could play well together given our games," said Sania about Strycova, who had won an Olympic bronze medal in women's doubles.
Courtesy: http://www.wtatennis.com/