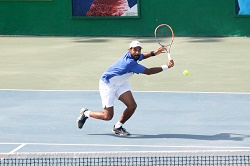 Jassowal, Ludhiana: Top seed Vishnu Vardhan lifted the crown at the HTA-ITF Men's Futures US$ 10,000 Tennis Tournament being played at Harvest Tennis Academy courts. In the finals, Vishnu defeated local player from Jassowal, Dalwinder Singh 7-6(4), 6-4.
It was fifth title for Vishnu Vardhan in a fortnight, including a doubles title in the ITF Futures event in Chandigarh.

Meanwhile, 20-year-old Dalwinder Singh Saran born in Jassowal village never dreamt of playing tennis until Harvey Saran opened up Harvest Tennis Academy in the heart of Jassowal village in the year 2006. But currently he is ranked 1443 in the world and has just reached his maiden Finals in ITF$10,000 in Jassowal.
Playing tennis since the age of 10, Dalwinder who is former Fenesta Nationals U-18 Runner up is training under Paras Thakur Director Tennis and Czech coach Jan Masik former ATP 269 is assisting Dalwinder in his hitting sessions. Dalwinder also helped Punjab to qualify for the National Games this year and won a hat-trick of AITA Men's 50K, 1 Lakh and 2.5 Lakh in Banglore, Jassowal and Gawalior earlier this year.

All the tennis expenses which include training, travelling and equipment are borne by Harvey Saran, who is the President of Harvest Tennis Academy. He has been supporting Dalwinder benevolently since his childhood and Dalwinder has capitalized on the blessings he has received. He is very passionate about tennis and is dedicated to follow the long road ahead which includes persistence and perseverance.

Results:Singles (Finals): Vishnu Vardhan (IND) [1] beat Dalwinder SINGH (IND) 7-6(4), 6-4.
Yesterday's Doubles (Finals): N.Sriram Balaji & N. Vijay Sundar Prashanth (IND) beat John Lamble (USA) & Bernardo Saraiva (POR) 6-3, 6-3.