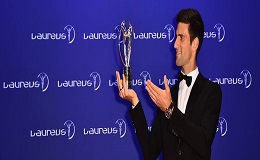 Berlin: Serena Williams is celebrating another highlight in her amazing career after winning a record-equalling fourth Laureus World Sports Award. And on a great night for tennis, Novak Djokovic was honoured with the Laureus World Sportsman Award for the second straight year and for the third time in his career.
Serena, the world's top women's tennis player, was named Laureus World Sportswoman of the Year again, after a sparkling 2015 in which she won three Grand Slams.
Laureus Academy Member Boris Becker, now Djokovic's coach, said: "He had a great year again. He's played 88 matches, has won 82, He won three out of the four Grand Slams, reached the final of the French Open, he's won seven other tournaments. Very few players, if any, had a year like that."
There was a special posthumous Laureus Spirit of Sport Award to celebrate the life of Johan Cruyff, who died in March. It was received by his son Jordi Cruyff.
On a glittering evening in Berlin that recognised the outstanding sporting achievements of 2015, rugby was the other big winner with the All Blacks taking the Laureus Team Award and Dan Carter receiving the Laureus Comeback of the Year Award, following the team's Rugby World Cup success.
Carter said: "It's nice to be recognised for the year I had in 2015. It was a very special year, not only for me, but also for the All Blacks and to be a part of that was amazing."
To the delight of the Berlin audience, Germany's Jan Frodeno, the first man to win both the Ironman World Championship and an Olympic triathlon gold medal, was presented with the Laureus Action Sports Award, while golfer Jordan Spieth won the Laureus Breakthrough of the Year Award.
Spieth said: "Thank you so much to the Laureus Academy. Just to know a couple of you is an honour. For me it's unique. We're used to being recognised in the golfing community but this Award recognises us around the world to all of sport and it's something that's very difficult to put into words."
Brazilian Paralympic swimmer Daniel Dias won his third Laureus Disability Award, another record. Dias, who is one of Brazil's big hopes for gold medals the Paralympic Games in Rio de Janeiro in September, said: "This is another great honour for me and gives me great encouragement, as we are now in the build-up to the Paralympic Games in Rio. To think I have won win three Laureus Awards, something only managed by other sportsmen like Roger Federer, Usain Bolt and Kelly Slater, is quite overwhelming."
Three-time Formula One world champion Niki Lauda, now Non-Executive Chairman of the Mercedes AMG Petronas team, received the Laureus Lifetime Achievement Award.
Laureus World Sportsman of the Year: Novak Djokovic
Laureus World Sportswoman of the Year: Serena Williams
Laureus World Team of the Year: All Blacks
Laureus World Breakthrough of the Year: Jordan Spieth
Laureus World Comeback of the Year: Dan Carter
Laureus World Sportsperson of the Year with a Disability: Daniel Dias
Laureus World Action Sportsperson of the Year: Jan Frodeno