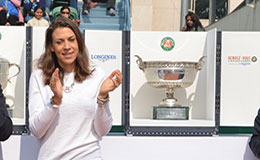 Delhi: In a major boost to the Rendez-Vous a` Roland-Garros programme, Marion Bartoli has specially been invited to be part of the event to motivate and pass on her valuable experience to the participating players. She will also be part of the 'Trophy Tour'. The historic French Open Trophies –
'Mousquetaires Cup' and 'Suzanne-Lenglen Cup' will be in India from 8th to 12th February. The Trophies will travel to India's most iconic destinations, providing fans and tennis lovers an opportunity to get a first-hand experience of the French Open trophies.
Talking at the Press Conference, Marion said "I am deeply thankful to All India Tennis Association and French Tennis Federation for having me here for Rendez-Vous a` Roland-Garros. I feel glad and honoured to be part of such an initiative. It was a dream to be a part of Roland Garros and I will be happy to help the talented young players achieve their dream and be a part of Roland- Garros. I hope this initiative can help promote grass-roots clay-court tennis in India."
Defending champion Sathwika Sama will be looking for an encore at the DLTA. However, she is expected to face a tough challenge from Mahak Jain and Jennifer Luikham. In the boys section, last year's runner-up Alex Solanki along with Vasisht Vinod Cheruku and, BR Nikshep are expected to headline the event.
Walter von Känel, President of Longines, said: "As the Official Partner and Timekeeper of Roland Garros since 2007, Longines is proud to extend its support to the young generation of players with "Rendez-Vous à Roland-Garros in partnership with Longines". To encourage promising sportsmen and women to fulfill their dream of participating in this prestigious tennis tournament is one of the most rewarding efforts a brand can make and we look forward to the second edition of the programme."