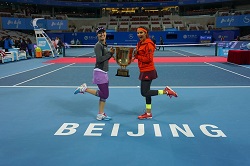 Martina Hingis of Switzerland and Sania Mirza of India become 2015 Women's Doubles World Champions. Martina Hingis and Sania Mirza only joined forces in March but proved a force to be reckoned with in 2015, winning two Grand Slam titles at Wimbledon and the US Open, and seven further tournaments. They won their last 22 matches from the start of the US Open through wins in Asia at Guangzhou, Wuhan, Beijing and the WTA Finals, ending the year with a 55-7 record.
While Jean-Julien Rojer of Netherlands and Romania's Horia Tecau are Men's Doubles World Champions. Hingis is an ITF World Champion 15 years after last being named World Champion in singles in 2000, while Tecau was previously World Champion in boys doubles in 2002.
The ITF World Champions will receive their awards at the 2016 ITF World Champions Dinner on Tuesday 31 May, in Paris, during Roland Garros.
ITF President David Haggerty said: "I would like to thank all the 2015 ITF World Champions for their contribution to another memorable year for our sport."