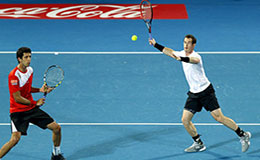 Dubai: Andy Murray showcased his tennis genius on the concluding day of the Coca-Cola IPTL 2015 here in Dubai. The OUE Singapore Slammers overpowered everything that came their way today, winning their second consecutive match in Dubai in as many days. The Micromax Indian Aces clearly finding something amiss, their performance today nowhere close to the dominant force they've been this season, coming into this match with 5 consecutive wins. With IPTL 2015 now heading into its final leg in Singapore, a 27-16 win over table toppers Micromax Indian Aces is just the boost that they need as they head home!
Match Summary:
- With player-coach Fabrice Santoro withdrawing from the opening set due to injury, the Indian Aces had no choice but to sit out from the legends singles, giving the Slammers a 6-0 victory
- Radwanska took the better of young Bencic in the women's singles, winning the set 6-3 and giving the Aces some much needed points to bridge the opening set deficit
- Mixed doubles saw Mirza start off with Ivan Dodigbut switch to her regular mixed doubles partner, Rohan Bopanna during play. The duo fought valiantly as they always do, but Pliskova/Brown took it down to the wire, winning the shoot-out, and taking the set away 6-5 giving their team a 2 set lead
- Men's doubles saw superb shot-making from Murray/Meloas they took on Dodig/Bopanna. The clever shot-making of Melo and quick footwork from Murray proved to be too lethal a combination for the Aces, the Slammers ultimately closing it out 6-4 taking a 3 set lead over their opponents
- The men's doubles had some fiercely competitive tennis from Murray. In only his second day on court this IPTL season, Murray ensured that no shot went unattended as he raced back-n-forth and across the court with a winning stroke for anything that came his way from Tomic. To a standing ovation from his team-mates, Murray led for most of the set, with Kyrgios substituting in the last couple of points to close it 6-1 for the Slammers
What the Players said:
Andy Murray: "It's been a great two days for me, the team's played really well, and I loved the team atmosphere. The Aces have pretty much qualified but for us it's about moving ahead of the rest and securing the no. 2 spot."
Dustin Brown: "It's been great having Andy here the last two days, he's helped us a lot obviously in trying to secure the second slot and get closer to the Aces. It was great to have him here, he played some unbelievable tennis, as usual, and makes us laugh the whole time!
Nick Kyrgios: "Andy played great the last couple of days. We knew that he was going to be the main guy for our teamhere coming into Dubai. I think it's not so much catching the Aces any more, it's more solidifying our position into a strong second place to get to the finals. It's been so much fun. And personally, these are going to be my favourite two days. The atmosphere and the whole team just came together, and Andy fit right in!" On Singapore, he said, "We have only one goal, and that's to win. Stan's going to the main guy for our team there, he's a terrific player and we are going to do everything to put a solid performance together." On the IPTL, he added "When you can get guys like Andy, Roger, Rafa to come together and play in one city, it's very special, and that obviously possible because of the IPTL.
Match Scores:
DUBAI

Day 3 | 16th Dec'15

Match 23 | 4pm

Home Team

SCORE (GAMES)

Away Team

Micromax Indian Aces

Coach: Fabrice Santoro

16

27

OUE Singapore Slammers

Coach: Purav Raja

MEN'S LEGENDS SINGLES

Fabrice Santoro

0

6*

Carlos Moya

WOMEN'S SINGLES

Agnieszka Radwanska

6

3

Belinda Bencic

MIXED DOUBLES

Mirza/Bopanna

5

6

Pliskova/Brown

MEN'S DOUBLES

Dodig/Bopanna

4

6

Melo/Murray

MEN'S SINGLES

Bernard Tomic

1

6

Andy Murray
*due to injury Fabrice Santoro will withdraw from the set today, awarding the Slammers a 6-0 victory