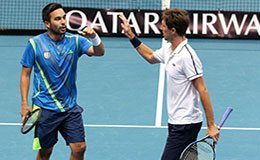 Manila: Home fans enjoyed a superb match this evening, as the Philippine Mavericks took on the Legendari Japan Warriors for the second match of the day. With Marat Safin pulling a calf ligament, Thomas Enqvist stepped in to replace him. The Mavericks won the first set, the Warriors levelled it. The crowd support egged on the home team to take the next two sets, even if the Warriors won the last. At the end of the evening, the scoreline was in favour of the home team, 25-21 much to the delight of a packed arena!
Match Summary:
- Philippoussis took the opening set 6-2 easily against Enqvist, who was playing his first match this edition, and found himself out of rhythm as a result
- Levelling the score in the next set, Kohlschreiber won it for the visitors 6-3 against Frenchman Gasquet. At this point, the Warriors feeling upbeat and eager to get their first win in the IPTL.
- The mixed doubles pairing of Williams/Raonic was too strong for Lucic/Herbert, who won it 6-4, taking the lead for the home team
- In the women's singles, Williams took the set convincingly against young Nara, who clearly was overwhelmed facing her stronger opponent, with Williams closing it out at 6-3
- Paes/Herbert won the men's doubles for the Warriors 6-4, but the clever shot-making and quick reflexes not helping them win the match overall!
What the Players said:
Treat Huey: "It's been wonderful playing with some of the best players in the world. When I played with Serena in Kobe, the first match I was a bit nervous. But then we won all our games there, we played really well, I loosened up a bit, and we got off to a great start here in Manila too. I've really enjoyed playing with her, and it's great to have a partner like Serena on your side of the court. In the next few days, I'm looking forward to playing with and against some of the other bigger players … it's great for me, and a terrific learning for my game." On the IPTL competition and enjoying home support, he added "I think the IPTL has been terrific for tennis in the Philippines. We have some great junior talent coming up, and this kind of exposure is terrific for them. It's wonderful to see fans come out and support tennis the way they have been doing for the IPTL last year and this year too!"
Milos Raonic: "It's a lot of fun playing mixed doubles, a I've played it a couple of times earlier, and when you have one of the greatest women's player of all time as your partner, it just makes it easier on myself!"
Match Scores:
MANILA

Day 2 | 7th Dec'15

Match 10 | 7:30pm

Home Team

SCORE (GAMES)

Away Team

Philippine Mavericks

Coach: Treat Huey

25

21

Legendari Japan Warriors

Coach: Josh Eagle

MEN'S LEGENDS SINGLES

Mark Philippoussis

6

2

Thomas Enqvist*

MEN'S SINGLES

Richard Gasquet

3

6

Philip Kohlschreiber

MIXED DOUBLES

Williams/Raonic

6

4

Lucic/Herbert

WOMEN'S SINGLES

Serena Williams

6

3

Kurumi Nara

MEN'S DOUBLES

Roger-Vasselin/Huey

4

6

Paes/Herbert
*Thomas Enqvist replaced Marat Safin who is injured