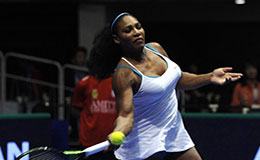 Kobe: In what was an evenly contested match, the OUE Singapore Slammers came out tops edging out the Mavericks 26-24 in the opening match on day 2.
Mavericks, opened their account in IPTL-II notching an impressive 24 games, winning the men's doubles and men's legends singles rubber for their team. The team bench saw Serena Williams and Milos Raonic joining Mark Philippoussis, Richard Gasquet, Edouard Roger-Vasselin, Treat Huey, AjlaTomljanovic and JarmilaGajdosova.
Match Summary:
- A win already under their belt, the Slammers looked set for the evening from the first set on.
- The legends singles gave tennis fans the chance to see big serving Philippoussis and Magical Moya light up the courts
- Serena Williams walked on to court to loud cheers, the crowds eager to see her fire brand of tennis.
- It was a match that tossed between 6s and 4s with all 5 sets reading the same scoreline, favouring one of the two teams till 2 sets all, with Kyrgios closing it for the Slammers against Raonic in the last set, earning himself the nickname 'closer' for his team!
What the Players said:
IPTL-debutant, Milos Raonic: "Not only did I come prepared for the IPTL, I also have an 'IPTL special edition haircut! It's great to be playing in the IPTL, I've heard wonderful things about it from players on the tour these past few months, the fun and the motivating parts with the rest of the team members, and I was really looking forward to it. It's a good format, fans enjoy it. For me, I'm somebody who usually likes to take his time in between points, so it will take a little getting used to, but I'm sure it'll get better by tomorrow. For me personally, I'm looking forward to playing tennis in new markets, and it's so good for the sport.
Kobe, Manila, Delhi, Dubai, Singapore – all of these are markets that I've never been to before, and I'm really looking forward to it. This year especially the timing is very good, I was not able to play due to some injuries, and it is good to be able to get some quality competition at this time of the year going into 2016. "
Match Scores:
Day 2 | 3rd Dec'15

Match 3 | 4pm

Home Team

SCORE (GAMES)

Away Team

Philippine Mavericks

Coach: Treat Huey

24

26

OUE Singapore Slammers

Coach: Purav Raja

MEN'S LEGENDS SINGLES

Mark Philippoussis

6

4

Carlos Moya

WOMEN'S SINGLES

Serena Williams

4

6

KarolínaPlíšková

MEN'S DOUBLES

Gasquet / Roger-Vasselin

6

4

Melo / Brown

MIXED DOUBLES

Roger-Vasselin / Gajdosova

4

6

Melo / Bencic

MEN'S SINGLES

Milos Raonic

4

6

Nick Kyrgios