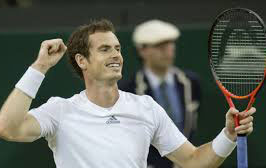 Dubai: Two-time Grand Slam winners, Andy Murray and Stan Wawrinka have announced their participation in the second edition of the Coca-Cola International Premier Tennis League (IPTL) that kicks off today in Kobe, Japan and will run through to 20th December 2015 in Singapore.
While Murray will be returning for the second season, Wawrinka will be making his debut in the five-nation tennis league, the only one of its kind in the world.
Both Murray and Wawrinka will be playing for the OUE Singapore Slammers, along with fellow team-mates Nick Kyrgios, Belinda Bencic, Karolina Plíšková, Dustin Brown, Carlos Moya and Marcelo Melo.
Novak Djokovic has chosen to withdraw from the second season. Djokovic played for the UAE Royals in the inaugural edition, and was drafted by the OUE Singapore Slammers for the second edition.
On his non-participation, Novak Djokovic said: "I had a great experience in the inaugural edition of the IPTL and was eagerly looking forward to playing in the second season, especially in front of the home crowd in Singapore. It's been a long year for meand my body needs some extra time to recover. I wish the team the very best and will join them next year."
Murray was part of the Manila Mavericks (re-christened 'Philippine Mavericks' in season two) in the inaugural edition and will be joining the OUE Singapore Slammers in the second season.
Wawrinka and Murray join a formidable array of tennis superstars that include Roger Federer, Rafael Nadal, Kei Nishikori, Marin Cilic, Milos Raonic, Nick Kyrgios among others. Serena Williams, Maria Sharapova,Ana Ivanovic, Kristina Mladenovic, Sania Mirza are just some of the names leading the women's charge in the league.
"We are glad to announce the return of Andy Murray and the debut of Stan Wawrinka in the IPTL. Both Murray and Wawrinka will add immense strength to the Slammers, upping the quality of tennis on display. Fans across the world can look forward to some exciting match-ups," said Mahesh Bhupathi on behalf of the IPTL.

The innovative, team-based, multi-nation tennis league has expanded to five teams for its second edition, with the Japan Warriors joining last season's champions Indian Aces, alongside the Obi UAE Royals, the Philippine Mavericks and the OUE Singapore Slammers in a five-city swing that starts today in Japan and ends at Singapore's Indoor Stadium for the grand finale on 20thDecember. The finals of Coca-Cola IPTL 2015 will see the top two teams in the league standings face off to determine the champion,winning the coveted trophy and prize money of USD 1 million, with the runner-up getting USD 500,000.