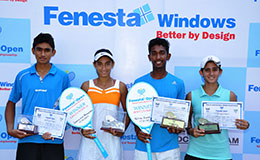 New Delhi: Nitin K Sinha tore the form book to shreds as he upset favourite Parikshit Somani 6-3, 6-0 to win the boys' under-16 title in the Fenesta Open Junior National Tennis Championship on Saturday.

As the curtains came down on the fortnight long domestic tennis extravaganza at the DLTA facility, Sabhyata Nihalani emerged the Girls' under-16 champion as she played solid tennis to beat Akansha Bhan 7-5, 7-5 in a match which could have gone either way.

Mann Maulik Shah and Sanya Singh emerged champions in the under-14 events respectively on Saturday.
It was a big win for Nitin as Parikshit was expected to dominate in the second week of the championship. But as has been the case in the past, more often than not the underdog bounces back. Nitin did that on a day when he was hardly tested by Parikshit, who had won the Under-18 Doubles title last week at the same venue.

In the Under-16 Girls' final, Sabhyata was in the zone as he won a match littered with many chances for both players. In the end, Sabhyata won against Akansha as she was more focused while closing out the big points.

The Under-14 finals turned out to be relatively one-sided as Mann Maulik Shah whipped Shashikant Rajput 6-1, 6-2 as he used his strong shots off the ground and covered the court well.

In the Under-14 girls' final, Sanya Singh showed she could play well in important matches as she walked over Salsa Ahir 6-3, 6-1.

Results:

Boys Under 16
Nitin Sinha bt Parikshit Somani 6-3,6-0

Girls Under 16
Sabhyata Nihalani bt Akanksha Bhan 7-5, 7-5

Boys Under 14
Mann Maulik Shah beat Shashikant Rajput 6-1,6-2

Girls Under 14
Sanya Singh bt Salsa Ahir 6-3,6-1