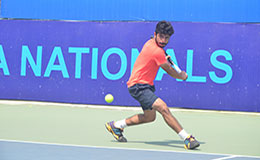 New Delhi: Defending champion Vishnu Vardhan, seed two in the draw, used his potent groundstrokes to whip Manish Sureshkumar 6-3, 6-4 in Men's Singles in the Fenesta Open National tennis Championship on Tuesday.

Initially seeded one in the draw, before Sriram Balaji stormed into the main draw as a qualifier, Vishnu played consistently and got into a rhythm against Manish.

Part-time professionals were involved in a long contest in Men's Singles as Lakshit Sood, who trains in Noida, outslugged seasoned pro Nitten Kirrtane 5-7, 7-6 (7/5), 6-2 in the Men's Singles.
On another hot day at the DLTA complex, when the maximum temperature hovered around 36 degrees Celsius, Lakshit Sood needed to use all resources at his disposal to get past Nitten Kirrtane in a long match.

Old timers will recall, Kirrtane has won the nationals in the past. His patient game from the baseline, with sharp angles typical of a left-hander ensured Lakshit had to fight for points.

Finally, in the decider, Lakshit wrapped it up 6-2 for a well deserved win.

Experienced fourth seed VM Ranjeet took time to settle down before downing Prajwal Dev again in a three setter 4-6,6-3,6-1.

The Women's Singles category saw a bit of a battle when 16 year old Mihika Yadav offered some resistance against defending champion Prerna Bhambri before losing 4-6, 1-6 in the women' section.

It was an easy outing for Snehadevi S Reddy, title favourite and top seed, as she did the demolition job against Sneha Padamata with a clinical 6-0, 6-0 win.

Among juniors, top seeds Aryan Goveas and Zeel Desai moved in the next round of the Boys' and Girls' categories of the under-18.

Results:

Men's Single
Vishnu Vardhan (Seed 2) bt Manish Sureshkumar 6-3, 6-4;Shaikh Abdullah (Seed 7) bt Udaya Kumar Reddy 7-6 (5), 6-2;Lakshit Sood bt Nitten Kirrtane 5-7, 7-6 (5), 6-2;V M Ranjeet (Seed 4) bt Prajwal Dev S D 4-6, 6-3, 6-1;Shahbaaz Khan bt Anvit Bendre (Seed 5) 6-3, 6-2;Alex Solanki bt Avinash Borthakur 6-1, 7-5;Vilaser Khate bt Sahil Gaware 6-1, 6-3; Nitin Kumar Sinha bt Chandril Sood 6-1, 1-6, 6-3

Women's Single
Snehadevi S Reddy (Seed 1) bt Sneha Padamata 6-0, 6-0;Samriti Punyani bt Neeru Rapria 6-3, 6-1;Eete Mahete(Seed 6) bt Abinikka Renganathan 6-2, 6-2;Prerna Bhambri (Seed 4) bt Mihika Yadav (Seed 4) 6-4, 6-1; Vaniya Dangwal bt Moulika B Ram 6-3,6-4; Amrita Mukherjee bt Teertha Iska 6-4,6-1;Sowjanya Bavisetti bt Satvika Sama 6-3,6-3;Vaidehi Chaudhari bt Preethi Ujjini 6-3,6-3

Boy's Single
Aryan Goves (Seed 1) bt Sivadeep Kosaraju 6-1, 6-2;Adil Kalyanpur bt Raswant Ravi 6-3, 7-6 (1);Siddhant J Banthia bt Shrey Gupta 6-4, 6-2;Manish Sureshkumar (Seed 8) bt Mingki Talom 6-2, 6-1;Abhimanyu Vannemreddy bt Ishaque Eqbal (Seed 3) 6-0, 6-4;Anurag Nanwani (Seed 10) bt Sanil Jagtiani 6-1, 6-0;Alex Solanki (Seed 7) bt Sansidh Komaraju 6-2, 6-0;Yugal Bansal bt Danish Ahmad 6-4, 6-2;Parikshit Somani (Seed 4)bt Siddharth Ponala 6-3, 6-4;Udayan Bhakar bt Paras Dahiya 6-3, 6-4;Nikshep Ravikumar B(Seed 2)B bt Armaan Bhatia 6-1, 6-1;Shramay Dhawan bt Aadithya S M 7-6 (5), 5-7, 6-4;Parth Sharma bt Ashutosh Tiwari 7-6 (0), 6-4;Aditya Vashist bt Dhruv Sunish (Seed 6) 7-6, 6-2;Abhinav Sanjeev bt Paramveer Bajwa (Seed 9)7-5, 7-6(3);Param Pun bt Mayukh Rawat 6-2, 6-0

Girl's single
Zeel Desai (Seed 1) bt Nairuti Vyas 6-0, 6-0;Sathwika Sama (Seed 2) bt Bhakti Parwani 6-2, 6-2;Mahak Jain (Seed 3) bt Avanthika Sai 6-0, 6-1;Prinkile Singh bt Shivani Ingle (Seed 4)7-5, 5-7, 6-0;Jennifer Lukham (Seed 5) bt Shefali Arora 6-3, 6-3;Vanshika Sawhney (Seed 6) bt S Soha 6-0, 6-1;Sabhyata Nihalani (Seed 7) bt Priyanka Kalita 6-3, 6-2;Shivani Amineni bt Dedeepya Sai Y 6-3, 6-1;Lalita Devarakonda (Seed 8) bt Akshara Iska 7-6(2), Retd;Vaidehi Chaudhari (Seed 9) bt Lasya Patnaik 7-6 (4), 6-0;Akansha A Bhan (Seed 10) bt Yubrani Banerjee 6-3, 6-3;Harsha Sai Challa bt Aarja Chakraborty 6-3, 6-3;Nida Kamal bt Aesha Patel 7-5, 6-3;Shivani Manjanna bt Humera Shaikh 6-2,1-6,6-2;Himani Mor bt Rashmika Rajan 7-5, 6-2;Abinikka Renganathan bt Sheya Gulia 6-2, 7-6 (1)