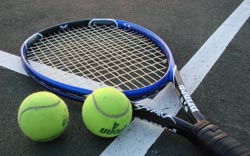 New Delhi: Sriram Balaji played solid tennis to churn out a 6-1,6-2 win against Delhi's Rubal Shandilya in the first round of the Men's Singles in the Fenesta Open tennis championship at the DLTA facility on Monday.
The first upset of the day happened with Rishika Sunkara the seed 2 losing to Shweta Rana 7-5,6-1 in the Women's Singles category.
Having chosen to come late for this event, Sriram won three rounds in the qualifiers and was ready for the demolition job in the main draw. His serve was solid and he backed it with sustained aggression on either flank to crush his opponent in the dry capital heat.
Rubal, has played a lot of tennis in the capital and done well in smaller prize money tournaments. He runs his own coaching programme as well, though, today, it was the turn of Sriram Balaji to teach him a few lessons in winning a match.
There was no major upset in other men's matches with third seed Mohit Mayur and Sidharth Rawat warming up for tougher battles ahead.
In the boys' under-18, top seed Aryan Goveas did not drop a single game as he whipped Jaydeep Chudasama 6-0, 6-0 while seventh seed Alex Solanki had an easy outing against Amarnath Arora and won 6-1, 6-3.
Aryan later showed in the evening he was a fit player as he battled for almost three hours before losing in a three-setter to Siddharth Vishwakarma in men's singles. Eventually, Siddharth got the better of Mumbai's Aryan 6-3, 3-6, 7-6 (2).
This being the first day, there was plenty of action on all the courts as the wheat was being separated from the chaff. Women's matches got underway only in later afternoon.
Results:
Men's singles (1st round):
Sriram Balaji (Seed 1) bt Rubal Shandilya 6-1, 6-2; Mohit Mayur Jayaprakash (Seed 3) bt Jayesh Pungliya 7-5,7-6(8/6); Garvit Batra bt PC Vignesh 6-3, 6-4; Sidharth Rawat beat Paramveer Singh Bajwa 6-3, 6-0;Rashein Samuel bt Vignesh Veerabhadran 6-4,6-1;Siddharth Vishwakarma bt Aryan Goveas 6-3,3-6,7-6(2)
Women's Singles (1st round):
Shweta Rana bt Rishika Sunkara (Seed 2) 7-5,6-1; Riya Bhatia bt Arantxa Andrady 6-1, 6-0
Boys under-18 (1st round):
Aryan Goveas (Seed 1) bt Jaydeep S Chudasama 6-0, 6-0; Ishaque Eqbal (Seed 3) bt Parth Aggarwal 6-4, 7-6 (2); Parikshit Somani (Seed 4) bt Chinmaya Dev Chauhan 6-2, 6-3; Nitin Kumar Sinha (Seed 5) bt Parth Sharma 6-0, 6-0; Alex Solanki (Seed 7) bt Amarnath Arora 6-1, 6-3; Manish Sureshkumar (Seed 8) bt Gokul Suresh 6-4, 6-1; Anurag Nenwani (Seed 10) bt Mayank Yadav 6-2, 6-2; Abhimanu Vannemreddy bt Sahaj Somani 6-2, 6-3; Sanil Jagtiani bt Fayyaz Hussain Quadri 6-2, 6-1; Raswant Ravi bt Saurav Kalkal 6-4, 6-3; Sivadeep bt Raghav Jaisinghani 7-6 (4), 6-4; Adil Kalyanpur bt Drona Walia 6-0, 2-6, 7-6 (3); Shrey Gupta bt Taha Kapadia 1-6, 6-3, 6-3; Siddhant J Banthia bt Mrityunjay Badola 2-6, 6-4, 6-1; Mingki Talom bt Nihit Rawal 6-1, 2-6, 6-3; Aadithya S M bt Vikrant Dahiya 6-3, 6-4; Sansidh Kommara bt Vaibhav Kundu 6-4, 6-1; Mayukh Rawat bt Sanket Tomar 4-6, 6-1, 6-0; Param Pun bt Varun Venkat 6-1, 7-5; Yugal Bansal bt Rohit Krishna Aynampudi 6-1, 6-2; Danish Ahmad bt Amit Beniwal 6-1, 6-4; Siddharth Ponnala bt Mohit Bhardwaj 6-4, 6-4; Armaan Bhatia Bt Mridul Kharkwal 7-5, 6-4; Nikshep Ravikumar bt Sumit Pal Singh 6-2, 6-1; Dhruv Sunish bt Manav Pondkule 7-5, 6-2; Aditya Vashisht bt Dhakshineshwar Suresh 6-4, 6-1; Abhinav Sanjeev bt Anshuman Gulia 6-1, 6-4; Paramveer Singh Bajwa bt Sagar Bains 7-6 (7/4), 6-2; Udayan Bhakar bt Kushaan Nath 2-6, 6-2, 6-3; Paras Dahiya bt Rengarajan Ramakrishnan 6-6, 6-6 (7/4); Ashutosh Tiwari bt Himanshu Mor 6-4, 6-4; Shramay Dhawan bt Sagar Sehrawat 6-2, 7-5
Girls Under 18(1st round):
Nairuti Vyas bt Negha Muthukumaran 6-4, 6-0; Shivani Amineni bt Advaita Sarvanan 6-3, 6-0; Aarja Chakraborty bt Urmi Pandya 6-4, 6-2; Avanthika Sai bt Radhika Yadav 6-2, 6-3; Aesha Patel bt Anu Verma6-2, 6-3; Yubrani Banerjee bt Rishika Ravindran 6-4, 4-0 (retd); Smriti Singh bt S Soha 6-0, 6-1:Akshara Iska bt Tanisha Kashyap 6-2,1-6,6-3; Rashmika Rajan bt Ankita Hoon 7-5,60-4;Priyanka Kalita bt Seerat Kaur Pannu 6-2,6-4;Lasya Patnaik bt Rutvi Shah 6-1,6-2:Shefali Arora bt Avishka Gupta 7-5,3-6,6-2