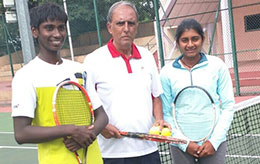 New Delhi: Two budding and promising tennis players, Pranjala and Theertha Shashank, sponsored by the GVK Group, Hyderabad, are heading overseas for participating in important international events. Mr Ilyas Ghouse, Director, GVK Tennis academy is proud of his two players who are getting international exposure at a young age to learn and benefit from.

His star pupil Y Pranjala, aged 16 years, will be heading for participating in two preparatory tournaments, Prince George's county international hard court, MD Maryland from August 24th – 29th ITF GRADE 1 in US and then to the Canadian Open Junior Championship from August 30th Aug – September 5th, Quebec, Canada before moving on to New York for the US Open Juniors 2015. She is the only Indian girl with a direct entry into the main draw. Pranjala is currently ranked 17 in the ITF world junior rankings. It is the highest ranking attained by any Indian junior player.

Theertha Shashank, aged 14 years, is one of the two Indian boys who have qualified to participate on the Road to Wimbledon tournament being held in Wimbledon courts, London from August 10th to 16th . Shashank will be leaving with the Indian Team on August 6th to travel to Wimbledon. Shashank is currently ranked 4 in Under-14 category. Shashank had to participate in three tournaments and a masters to get eligibility for participating in the international event.

This is one of the best opportunities for me with the commitment I have made for my tennis game,'' says Pranjala, a student of Chinmaya Vidhyalaya School who is traveling with the ITF Grand Slam Development Team.

I hope to put in my best efforts of this good opportunity and gain from this international exposure,'' says Shashank, a student of Secunderabad Public School.

Both Pranjala and Shashank are being supported and sponsored by Dr GVK Reddy Chairman of GVK Group. Dr GVK Reddy is a passionate Tennis player and a promoter of Tennis. Mr Ilyas Ghouse, who is coaching and mentoring both the players, feels such international exposure is needed for these young players in order to gauge levels of the top international players and then work towards matching and bettering those levels and he wishes both the players best of luck.