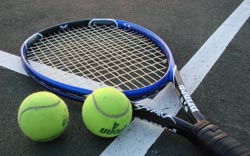 Bangalore: The Karnataka State Lawn Tennis Association (KSLTA) today announced the return of an ATP Challenger Tournament, a Men's $50,000 prize money event. The last time Benguluru hosted an ATP Challenger was in 2003. The same is scheduled to be held at the recently refurbished KSLTA stadium courts from 19 – 25 Oct 2015, with two preceding days of qualifying rounds (17 – 18 Oct).
This announcement re-asserts the Garden City's position as an international tennis destination in the world. Bengaluru has been in the forefront in hosting Tennis of international stature for a long time having conducted a plethora of events like the Davis Cup,WTA Tier-II, Tier-III and ITF professional circuit tennis tournaments.
The Country's top singles players, namely Somdev DevVarman, Yuki Bhambri and the upcoming sensation Ramkumar Ramanathan are expected to participate along with a tough field of players which would include a few top 100 players from 8-10 countries. The ATP Challenger event, returning to Bengaluru after a 12 year gap is sure to provide a good platform for the Indian players to move up the International ladder against formidable competition. During the 2003 edition last held in Bangalore, Frenchman Gregory Carraz won a grand double, winning the singles crown beating Belgian Gilles Elseneer 6-4, 7-6 (4) and partnered countryman Rodolphe Cadart to clinch the doubles title too.
KSLTA is the only state association in the country which has worked on creating 12 International Tennis destinations in the state. There are 12 districts which have hosted International Tennis events and provided inspiration to youngsters from each of the Districts to take up the sport apart from promoting sports tourism.
Speaking on the occasion R Ashoka, MLA, former Dy. Chief Minister, GOK and Sr. Vice President, KSLTA remarked, "Karnataka has always been very supportive to sports and sporting events. Such events go a long way in building brand Bengaluru as a top International sporting destination. We at KSLTA are proud to host this ATP Challenger event as such tournaments provide a gamut of opportunities for budding international players from the country and state to participate and compete against their international counter parts. This event will be a treat to Bengalureans as they should witness all the top Indian players along with some highly ranked ATP tour players. We shall make all efforts to ensure the players enjoy their stay in Bengaluru and is special for them."
Sunder Raju, Jt. Secretary, AITA, Secretary, KSLTA and Chairman, International Tournaments Committee of All India Tennis Association (AITA) said, "We are very excited to bring back the ATP Challenger to Bengaluru after a gap of 12 years. With three players in the top 200, five in top 500 and thirty five others ranked on the ATP tour, we feel this is the time to have more Challenger events in India which would help our players with the required competition to move up higher in the world rankings with reduced expenses and advantage of home conditions. KSLTA has the expertise to hold mega events and we shall leave no stone unturned to make this Challenger, a grand success." Talking about sponsorship, he said, "Corporate involvement is important as a key contributor in the growth of the state and the country. Corporates today do understand the value of sports as a means of promoting social harmony and the discipline associated with sports is well recognized the world over. We are in touch with potential sponsors and there is keen interest amongst them to be involved in this event. We are confident that the event would mean as important to them as it would be for the players and the people of Bengaluru."
ATP Bengaluru Challenger Tour event offers players valuable ATP Tour world ranking points as such. The winner stands to earn 80 points and the finalist will gain 48 points. The semi-finalists, quarter-finalists andpre-quarter finalists will garner 29, 15 and 7 points respectively. Qualifiersstand to earn 3 bonus points.
ATP Ranking Points for this event:
| | | | | | | |
| --- | --- | --- | --- | --- | --- | --- |
| W | F | SF | QF | R16 | R32 | Q |
| 80 | 48 | 29 | 15 | 7 | - | 3 |