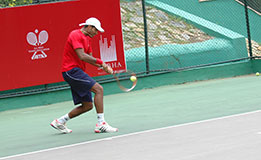 Mysuru: Olympian and former Davis Cupper Vishnu Vardhan probably played the best of his tennis this week, yet, when he ousted fourth seed Sasi Kumar Mukund in straight sets 6-3, 6-1 to storm into the semi-finals of the Sobha ITF Mysuru Open here at the Infosys Campus courts on Thursday.

The top three seeds took their appointed places in the last four, third seed Ranjeet Virali-Murugesan having to come back from being a set down to get past No 5 seed Mohit Mayur Jayaprakash.

Second seed Karunuday Singh had it the easiest of all when he breezed past the last foreigner standing in the draw, Taipe's Jui-Chen Hung 6-1, 6-3.
Hung seemed to have lost the will to battle it on court from the beginning and kept holding his sides, an action that suggested that all was not well with him. At one point he even served underhand.

Top seed Ramkumar Ramnathan was tested by seventh seed Vinayak Sharma Kaza in the second set after the players had held serve till 6-all. In the ensuing tie-breaker the Davis Cupper opened up a 3-0 lead only to see his rival level it. He then brought all his experience and standard of play coming up with an awesome passing shot that left Kaza stunned. Unforced errors made it easier for the top seed.

The unfinished doubles quarterfinals saw a total change of fortunes for the players. Pungliya and Sinha who had claimed the first set 6-3, before bad light stopped play on Wednesday, were shut out by Bhavesh Gour and Sidarth Rawat, the second named pair claiming the second set 6-4 and the decider 10-7.
Gour and Rawat got some rest and then got on court to storm into the final defeating the Indo-Taipe pair of Sasi Kumar Mukund and Jui-Chen Hung 6-4, 3-6, 10-5 where they will take on second seeds Mohit Mayur Jayaprakash and Vinayak Sharma Kaza, who ousted the 4th seeded Sood twins Chandril and Lakshit 6-4, 5-7, 10-8, scheduled to be played on Friday.

Results: (Prefix denotes seeding):

Men's singles (Quarter-finals): (3) Ranjeet Virali Murugesan bt (5) Mohit Mayur Jayaprakash 3-6, 6-1, 6-2; (8) Vishnu Vardhan bt (4) Sasi Kumar Mukund 6-3, 6-1; (2) Karunuday Singh bt (6) Jui Chen Hung 6-1, 6-3; (1) Ramkumar Ramnathan bt (7) Vinayak Sharma Kaza 6-3, 7-6 (4).

Doubles: Quarter-finals: Bhavesh Gour/Sidarth Rawat bt Jayesh Pungliya/Nitin Kumar Sinha 3-6, 6-4, 10-7.

Semi-finals: Bhavesh Gour/Sidarth Rawat bt Sasi Kumar Mukund/Jui-Chen Hung (Tpe) 6-4, 3-6, 10-7; (2) Mohit Mayur Jayaprakash/Vinayak Sharma Kaza bt (4) Chandril Sood/Lakshit Sood 6-4, 5-7, 10-8.