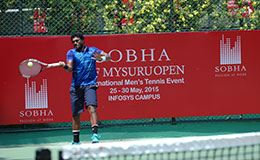 Mysuru: On a day when gallons on gallons of body salts and minerals replenishing fluids were consumed, the three seeds who took to court made it to the second round while two players retired due to exhaustion, cramps and weak bellies in the first round of the Sobha ITF Mysuru Open at the Infosys Campus here on Monday.

Taipe's Jui-Chen Hung, seeded No 6 here, sailed through 6-1, 6-1 against Wild Card recipient Garvit Batra while 5th seeded Mohit Mayur Jayaprakash surged through winning the tie-breakers in both the sets and then succumbed to cramps and No 4 Sasi Kumar Mukund carved out a 6-3, 6-3 verdict over qualifier Nitin Kumar Sinha.

Three Karnataka lads, two from Mysuru made it to the second round as well. Karnataka's top player Suraj Prabodh breezed past qualifier Hardeep Singh Sandhu and Wild Card recipient from KSLTA S.D Prajwal Dev bested another qualifier Shahbaaz Khan 7-6 (5), 6-2.

Japan's Kazuma Kawachi trailing Bangalore Lad Rashein Samuel 1-2 in the first set pulled out claiming illness and dizziness while Niki Kaliyanda Poonacha pulled out with cramps, having lost the first set via the tie-breaker but leading 5-2 in the second.

In the doubles first round, tournament fourth seeds, the Sood twins Chandril and Lakshit cruised past Aditya Tewari and Neishit Vakil 6-3, 6-3 as did Sagar Ahuja and Jatin Dahiya over Mohith Manoharan and Darshan Srinivas 6-3, 6-1 while the pair of Rohan Bhatia and Maninder Singh had to battled it out in the decider against the duo of Garvit Batra and Sandeep Choudhary before moving into the quarter-finals.

Results: (Prefix denotes seeding):

Men's singles (1st round): (All Indians unless mentioned): S.D Prajwal Dev bt Shahbaaz Khan 7-6 (5), 6-2; (6) Jui-Chen Jung (Tpe) bt Garvit Batra 6-1, 6-1; (5) Mohit Mayur Jayaprkash bt Jatin Dahiya 7-6 (5), 7-6 (4); Rishab Agarwal bt Niki Kliyanda Poonacha 7-6 (4), 2-5; Shotaro Goto(Jpn) bt Dalwinder Singh 6-3, 6-0; Sidarth Rawat bt Haadin Bava 6-3, 7-6 (4); (4) Sasi Kumar Mukund bt Nitin Kumar Sinha 6-3, 6-3; Rashein Samuel bt Kazuma Kawachi 2-1 (Retd); Suraj R Prabodh bt Hardeep Singh Sandhu 6-2, 6-3.

Doubles (1st round): (4) Chandril Sood/Lakshit Sood bt Aditya Tewari/Neishit Vakil 6-3, 6-3; Sagar Ahuja/Jatin Dahiya bt Mohith Manoharan/Darshan Srinivasa 6-3, 6-1; Rohan Bhatia/Maninder Singh bt Garvit Batra/Sandeep Choudhary 6-4, 4-6, 10-3.