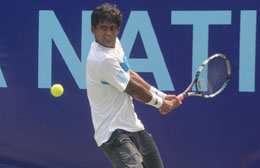 MYSURU (Karnataka): Tournament top seed and world No 247, Indian Davis Cupper Ramkumar Ramnathan has dawn a wild card entrant as his first round opponent while last week's ITF winner Karunudhay Sing, seeded No 2 will take on 1402 seeded Akash Wagh in the opening round of the Sobha ITF Mysuru Open here are the picturesque Infosys Campus courts, starting Monday, May 25.

The ATP points difference between the tournament top seed Ramkumar Ramnathan (226) and Karunuday Singh (630), winner of the ITF Mandya Open is a good 404 points, but there is certainly no gain saying of the players' form on a given day added to the possibility of injuries on court.

Monday and Tuesday will see the first round of the singles and doubles being played.

The withdrawal of Frenchman Antoine Escoffier from the Sobha ITF Mysuru Open due to injury sustained at the ITF Mandya Open turned out to be a boon for Sandeep Choudhary, who as second seed amongst the qualifiers lost in the deciding round and yet made it to the main draw as the lucky loser, the ATP points against his name coming to his rescue.

Olympian and former Davis Cupper Vishnu Vardhan, seeded No 8 here said, "The courts at the Infosys Campus are fast and good and it should suit my style of play".

No 3 seed Ranjeet Virali-Murugesan, who lost in the quarters at the ITF Mandya Open and pulled out of the doubles with a niggling knee injury, on the eve of the main draw said, "I have practiced on these courts and find them better and faster than the one at Mandya".

Talking of his knee Injury, the Tamil Nadu player said, "There is some lingering pain and I have taped my knee, popping pain killers and keeping practice to the bare minimum, hoping it will hold on for the week ahead".

Chinese Taipe's Jui-Chen Hung was all awestruck with the Infosys campus. "This place is huge and just beautiful", he gushed adding, "The courts are good and real fast. It will be nice when main draw starts to play".

QUALIFIERS SPOTTED

The eight players to qualify for the main draw were Dalwinder Singh, Hardeep Singh Sandhu, Aditya Tewari, Haadin Bava, Jayesh Pungliya, Nitin Kumar SInha, Rishab Agarwal and Shahbaaz Khan.

Results: Men's singles final qualifying round: (All Indians unless mentioned):

Dalwinder Singh bt Darshan Srinivas 6-0, 6-0; Hardeep Singh Sandhu bt Rishi Reddy 6-2, 7-5; Haadin Bava bt Taha Kapadia 6-4, 6-0; Aditya Tewari bt Sandeep Choudhary 4-6, 6-3, 6-3; Jayesh Pungliya bt Siddarth Vishwakarma 7-6 (3), 6-2; Nitin Kumar Sinha 6-3, 6-3; Rishab Agarwal bt Puru Upadhya 6-1, 6-4; Shahbaaz Khan bt Rohan Bhatia 6-3, 6-1.