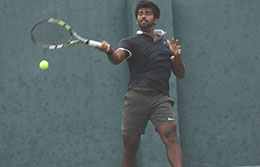 MANDYA, (Karnataka), May 16: Irfan Hussain wasted little time on court disposing off his country-mate, Mysore's Mohith Manoharan 6-0,6-0 in a little over an hour in the first match on court one of the first round of the Mysore Minerals Ltd Men's ITF $10,000 Mandya Open qualifiers at the PET Sports Complex here on Saturday.

In a slugfest at the fag end of the day, Delhi's Garry Tokas managed to stave off the stiff challenge of Bangalore's Rishi Reddy, winning 6-7 (8), 7-6 (5), 7-5.
The longest match however was between Maharashtra's Jayesh Pungliya and Tamil Nadu's Abhinav Sanjeev Shanmugam that not just went the distance, 3-6, 7-5, 6-4, but lasted nearly three hours. The duo matched each other stroke for stroke, the Maharashtrian proving to be stronger when it mattered most rallying from a set deficit to move into the second round.

In a contest between two Bangaloreans, Rashein Samuel bested Poorva S Kumar 6-4, 6-3.

The 11 players who advanced will join the five players who received a bye in the first round for a slot in the main draw, starting on Monday.

Results: Qualifying 1st round (All Indians): Irfan Hussain bt Mohith Manoharan 6-0, 6-0; Aditya Tiwari bt Darshan Srinivas 6-2, 6-4, Siddarth Vishwakarma bt Anurag Nenwani 7-6 (8), 4-6, 6-4; Basil Khuma bt Maandir Singh 6-1, 3-6, 7-5, Jayesh Pungliya bt Abhinav Sanjeev Shanmugam 3-6, 7-5, 6-4; Rashein Samuel bt Poorva S Kumar 6-4, 6-3; Sahil Gaware bt Vaishnav Bendalam 6-2, 6-1; Haadin Bava bt Abrar Nawaz Syed 6-1, 6-1; Rahul Robinson Manoah bt Shane Biddaiah 6-2, 6-0; Aditya Deswal bt Rohan Bhatia 6-3, 6-4, Garry Tokas bt Rishi Reddy 6-7 (8), 7-6 (5), 7-5.