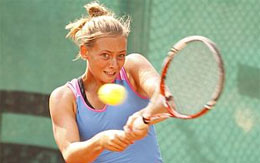 Pune, December 18: The Netherlands' Cindy Burger, world ranked 227 on the WTA list, will be the star attraction at the NECC-ITF women's $25,000 tennis tournament at the Deccan Gymkhana here from December 22 to 27.
Burger, who already has won a $25,000 title in Perigueux, France, earlier this year, should start favourite in the quality field that will on show for one week here in the most awaited tournament of the year.
Her only other ITF title came in last year when she won $10,000 event in Bucharest, Hungary. Incidentally, Burger's both the title triumphs have been on clay, while she will be playing on newly-laid hard-courts at Deccan Gymkhana.
Ukraine's Anastasiya Vasylyeva , ranked 175 in the world, had sent in her entry for both the ongoing $25,000 ITF event in New Mumbai and the NECC tournament, but she has pulled out of her scheduled tour of India.
"This is the oldest women's tournament in India and also longest running event. We are proud to be hosting it once again, and we are delighted with the field that we have got," said Mukund Joshi, the Tournament Director.
This is the 14th consecutive year of this tournament, with National Egg Coordination Committee (NECC) being the sponsors on every single occasion, which makes it as one of the oldest association on the country's tennis calendar.
"Deccan Gymkhana has been in the forefront of promoting tennis. We have organized as many as 19 tournaments in the last two-and-a-half years," Joshi informed.
Sofia Shapatava of Georgia is the second best ranked player at 249, while Ankita Raina, who is 298 on the WTA list, is the only Indian to get direct entry in the tournament.


Ankita has been the top Indian performer in the recent past. She has won three $10,000 tournaments in 2013, one in Chennai and two in New Delhi, but singles title success has eluded her this year.
She, nonetheless has won three doubles titles, all with different partners. He latest triumph came in $15,000 ITF event in Lucknow in the first week of December with Webley Smith of Britain.
"The hospitality and other facilities provided by the Deccan Gymkhana to the players participated in this tournament, is also one of the reasons that makes this tournament very popular among all the players," said Joshi.
Katy Dunne of Britain is the only other top 300 ranked player in the world figuring in the list.
The qualifying rounds would be played on December 20 and 21. Main draw matches get underway on December 22, with the finals to be played on December 27.

Top entries (World rankings):
1. Cindy Burger (Ned) 227
2. Sofia Shapatava (Geo) 249
3. Ankita Raina (Ind) 298
4. Katy Dunne (Gbr) 299
5. Manon Arcangioli (Fra) 312
6. Polina Leykina (Rus) 321
7. Natela Dzalamidze (Rus) 330
8. Kamila Kerimbayeva (Kaz) 335
9. Jia-Jing Lu (Chn) 336
10. Veronika Kapshay (Ukr) 345
11. Margarita Lazareva (Rus) 346
12. Miyabi Inoue (Jpn) 349
13. Alyona Sotnikova (Ukr) 351
14. Despina Papamichail (Gre) 363
15. Ayaka Okuno (Jpn) 395
16. Sviatlana Pirazhenka (Blr) 396
17. Anna Morgina (Rus) 413

Wildcards:
From AITA: Prathana Thombare, Natasha Palha and Sharmada Balu.
From organizers: Mihika Yadav, World Junior No.173 from Mumbai;
NECC ITF Champions (last 5 years):

2009: Singles: Rika Fujiwara (Japan); Doubles: Nicole Clerico (Italy) and Anastasiya Vasylyeva (Ukraine)
2010: Singles: Bojana Jovanovski (Serbia); Doubles: Nina Bratchikova) and Alexandra Panova (Russia)
2011: Singles: Céline Cattaneo (France); Doubles: Lu Jia Xiang and Lu Jiajing (China).
2012: Singles: Tadeja Majeric (Slovenia); Doubles: Tadeja Majeric (Slovenia) and Conny Perrin (Switzerland)
2013: Singles: Magda Linette (Poland); Doubles: Nicha Lertpitaksinchai and Peangtarn Plipuech (Thailand)