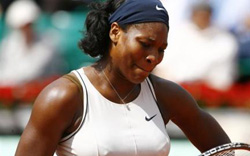 Manila: Home town heroes Manila Mavericks withstood an inspired Serena Williams to win impressively before adoring fans, as the first leg of the Coca-Cola IPTL presented by Qatar Airways ended with rapturous applause and pleas for more.
- Mavericks player-coach Treat Huey won the coin toss and elected to serve.
- Mark Philippoussis was drafted in as a substitute due to Carlos Moya's injury, and he proved he was the right choice by thrilling the home crowd with brilliant tennis, taking the first set against Patrick Rafter.
- Crowd pleasers Treat Huey and Jo-Wilfried Tsonga whipped the audience into a frenzy with quick net play and dazzling winners versus the in-form Singapore doubles pair of Nick Kyrgios and Tomas Berdych, though Nick Kyrgios was substituted mid-set for Lleyton Hewitt.
- The crowd called out its admiration for a living legend of the sport as Serena Williams took to the court with Lleyton Hewitt for the mixed doubles, but it was the home team duo of Andy Murray and Kirsten Flipkens who earned the win for the home team
- Williams proved why she is the number one women's tennis player in the world as she broke Flipkens' serve several times to win a set for the DBS Singapore Slammers, but Andy Murray held on against up-and-comer Nick Kyrgios in Manila's last shootout to finally grab the home team's first win in the tournament.

What the Players Said:

- Serena Williams enjoyed being introduced to the format today. "I love the team atmosphere. If you lose a match everyone is still positive and that what I love about it."
- Williams enjoyed hearing the crowd while she was playing. "The reception of the crowd has been amazing," she said. "Everyone's so nice. Just warming up and hearing the crowd was spectacular and unexpected. I feel honored to feel that. I've never played and been here before. It's good to come to countries like this because you realize we have fans everywhere and we never get to come to places where some of the fans are and forget that you do have fans everywhere," she added. "It feels good to have that opportunity."
- Williams was enthusiastic about playing more in the future. "I myself would like to give more time to it (IPTL). We're having so much fun and it's been very enjoyable for me and I think, for the most part, most of the top players are joining so, we kind of support it."
- Andy Murray was delighted to sign off his time in Manila with a win for his team. "It's nice to finish the weekend with two wins today. It was a good atmosphere at the end. The way that it finished was a nice way for it to end, with the new format."
- He had nothing but praise for the home support his team received. "The support was amazing and each day got a little bit better as everyone started to understand the rules and the format. It was great. The crowd got more full as the days went on."
- "We've had a really good time," Murray said, speaking about the League in general."If they'd want me to come back, I'd be back. I've enjoyed the last few days. It was a nice way for me to finish the year. It's a long trip here but everyone made it very easy, they put on a great event. Everyone is involved and the organization did a really good job."
- Murray also said he was ready to commit to more matches next time. "No one really knew exactly how it was going to go,but because of how much I enjoyed it, and how well organized it was, I would consider playing more next year, for sure."
- He also wants to stay a Maverick in the future. "All of the players over time would want to keep playing with the same players and be part of the same team."
Match Scores:
SCORE (GAMES)

MANILA MAVERICKS

27

19

DBS SINGAPORE SLAMMERS

PAST CHAMPIONS' SINGLES

Mark Philippoussis

6

2

Patrick Rafter

MEN'S DOUBLES

Treat Huey/Jo-Wilfried Tsonga

6

5

Lleyton Hewitt (sub. Nick Kyrgios)/Tomas Berdych

MIXED DOUBLES

Kirsten Flipkens/Andy Murray

6

1

Serena Williams/Lleyton Hewitt

WOMEN'S SINGLES

Kirsten Flipkens

3

6

Serena Williams

MEN'S SINGLES

Andy Murray

6

5

Nick Kyrgios
Coca-Cola IPTL presented by Qatar Airways -League Table Standings
| | | | | | |
| --- | --- | --- | --- | --- | --- |
| | TEAM NAME | Matches Played | Matches Won | Matches Lost | Points Tally |
| 1 | Micromax Indian Aces | 3 | 3 | 0 | 12 |
| 2 | Musafir.com UAE Royals | 3 | 2 | 1 | 10 |
| 3 | Manila Mavericks | 3 | 1 | 2 | 7 |
| 4 | DBS Singapore Slammers | 3 | 0 | 3 | 4 |