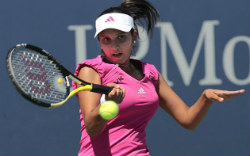 Manila: The much awaited Coca-Cola International Premier Tennis League presented by Qatar Airways got off to a flying start with the Micromax Indian Aces notching an impressive and much applauded first victory under its belt.
A packed house at the Mall of Asia Arena full of families and children, tennis fans young and old, greeted this exciting and fast-paced format of tennis, and the crowd of 12,000+ cheers grew louder and louder as the matches went on. The familiar faces of Ana Ivanovic (Micromax Indian Aces) and Tomas Berdych (DBS Singapore Slammers) were met with enthusiasm from the adoring fans, and the players seemed to enjoy the crowd's reactions.
- Micromax Indian Aces Player-coach Fabrice Santoro won the toss and elected to serve.
- Evening started with mixed-doubles match of Rohan Bopanna and Sania Mirza (Aces) against the Slammers pairing of Bruno Soares and Daniela Hantuchova, after being broken early, Soares and Hantuchova broke back but the clever shot-making of Bopanna and Mirza ultimately won the first set 6-4.
- Past champions singles followed, with Fabrice Santoro (Aces) playing against Australian legend Patrick Rafter (Slammers) giving the crowds the league's first shootout at 5-5 in the set, which Santoro took with aplomb to lead 2 sets to love.
- Tomas Berdych, Nick Kyrgios, Ana Ivanovic and Gael Monfils showed their class by taking the last 3 sets with relative ease, but ultimately giving the Micromax Indian Aces a terrific win over the DBS Singapore Slammers, winning 26 games to 16.

What the Players said:
"The crowd was amazing, they were really into the match," said Ana Ivanovic basking in the glory of her team's victory. "It was great to see and made the match more exciting. I'm really happy to spend time with all of the players on the team bench. The team spirit is great, we laugh a lot and make jokes and really support each other during points. It's very interesting to get into the team spirit because we don't get it that much in tennis because we are always traveling," Ivanovic added, smiling. "It was a great match and also fun format."
Match Scores:
SCORE (GAMES)

MICROMAX INDIAN ACES

26

16

SINGAPORE SLAMMERS

MIXED DOUBLES

Rohan Bopanna/Sania Mirza

6

4

Bruno Soares/Daniela Hantuchova

PAST CHAMPIONS' SINGLES

Fabrice Santoro

6

5

Patrick Rafter

MEN'S DOUBLES

Rohan Bopanna/Gael Monfils

2

6

Tomas Berdych/Nick Kyrgios

WOMEN'S SINGLES

Ana Ivanovic

6

0

Daniela Hantuchova

MEN'S SINGLES

Gael Monfils

6

1

Lleyton Hewitt