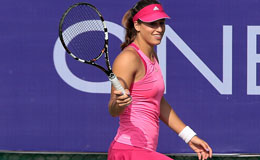 New Delhi: It was a disappointing day for Indians in the singles draw of the QNET Open $50,000 ITF Women's Circuit at DLTA Tennis Complex. India's top player, Ankita Raina, and wild-card entrant Prerna Bhambri lost their second round matches while qualifier Rishika Sunkara lost focus after winning the opening set and staged an exit.

The third-seeded Mariana Melnikova (Russia) was a bit too strong for the highest ranked Indian, 21-year-old Ankita Raina and won 6-4, 6-4. Second seed Anastasiya Vasylyeva (Ukarine) defeated Prerna Bhambri 6-2, 6-4 while Thailand's Nicha Lertpitaksinchai made the most of Rishika Sunkara's meltdown to win 4-6, 6-0, 6-1.

Austria's Barbara Haas, who stunned eighth-seeded Sofiya Kovalets (Bulgaria) in the first round, moved into the quarterfinals when her 17-year-old French rival, Harmony Tan, retirned because of a knee injury. Tan won the first set but Haas rallied to lead 3-6, 6-4, 2-0 when the French girl retired.

Former World junior No. 1, Ivana Jorovic (Serbia), who impressed on Tuesday with a win against fourth seeded Tadja Majeric (Slovekia), continued her winning run by defeating Tara Moore (Britain) in straight sets to make it to the round of eight where she will meet Nicha Lertpitaksinchai, who has not had to face a seeded player in the two rounds.

Ankita Raina looked set to pose a strong challenge but Mariana Melnikova raised her game a shade higher in the big points. Ankita Raina was happy with her showing, though. "I played the crucial points better than before. I had a calls going against me but that's okay. I also made a few unforced errors myself," she said.

Running late for her practical examination in college, Rishika Sunkara let her mind drift from the match though she won the first set. She lost 10 games in-a-row and quickly got away from DLTA to be able to head for her examination and return for the doubles quarterfinals.

There was no Indian left in the doubles draw as well as the four seeded pairs made it to the semifinals.

Wednesday's results:

Singles (second round): (1) Patricia Mayr-Achleitner (Austria) beat Margarita Lazareva (Russia) 6-4, 6-3; Babrara Haas (Austria) beat Harmony Tan (France) 3-6, 6-4, 2-0 (latter retired); (3) Marina Melnikova (Russia) beat Ankita Raina (India) 6-4, 6-4; (7) Elise Mertens (Belgium) beat Maria Sakkari (Greece) 6-3, 6-1; Nicha Lertpitaksinchai (Thailand) beat q Rishika Sunkara (India) 4-6, 6-0, 6-1; Ivana Jorovic (Serbia) beat Tara Moore (Britain) 7-5, 6-2; (6) Sabina Sharipova (Uzbekistan) beat Lu Jia-Jing (China) 3-6, 6-4, 7-6 (2); (2) Anastasiya Vasylyeva (Ukraine) beat wc Prerna Bhambri (India) 6-2, 6-4.

Doubles (quarterfinals): (1) Nicha Lertpitaksinchai and Peangtarn Plipuech (Thailand) beat Prathana G Thombare (India) and Emily Webley-Smith (Britian) 7-5, 7-6 (4); (4) Lu Jia-Jing and Liu Chang (China) beat Kamonwan Buayam (Thailand) and Sabina Sharipova (Uzbekistan) 7-6 (3), 6-1; (3) Margarita Lazareva (Russia) and Anastasiya Vasylyeva (Ukraine beat Hsu Ching-Wen (Chinese Taipei) and Wang Xi-Yao (China) 6-4, 6-2; (2) Marina Melnikova (Russia) and Elise Mertens (Belgium) beat Aranxta Andradi and Rishika Sunkara (India) 6-1, 6-1.