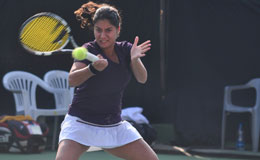 Pune: Prerna Bhambri kept the Indian flag flying by making it to the singles quarter-finals of the NECC-ITF women's $25,000 event at Deccan Gymkhana on Wednesday. It was another solid outing for qualifiers Rika Fujiwara from Japan and Keren Shlomo as they both made it to the last eight.

On a day when three out of four Indians in singles action were sent packing, Delhi girl Bhambri played some flawless tennis against an erratic Peangtarn Plipuech of Thailand. Plipuech's only glory came in the fifth game of the first set when she broke the Indian. Bhambri broke back immediately and then again in the 10th game, to win the set 6-4. Second set was a complete one-sided affair as Bhambri didn't drop a single game on her way to a quarter-final clash against Kazakhstan's Kamila Kerimbayeva.

Japan's Fujiwara, champion in this event in 2009, had a easy day as her sixth seed opponent, Oksana Kalashnikova of Georgia, conceded the match trailing 0-3 in the first set due to a wrist injury.

Israel's qualifier Keren Shlomo continued her good run with a 6-3, 6-2 win over Japan's Miyabi Inoue.

Mumbai girl Snehadevi Reddy had no answers to the power of Thailand's Nungnadda Wanasuk, losing 1-6, 0-6. Sowjanya Bavisetti, another qualifier who had made it to the second round, was outplayed 6-2, 6-2 by top seed Magda Linette. Sharmada Balu, another Indian qualifier, was defeated by third seed Diana Marcinkevica of Latvia 6-4, 6-0.

Balu-Bavisetti ended the day on a better note though, as they paired up to beat fourth seeds Tamara Curovic/Diana Marcinkevica 6-7 (1-7), 6-3, 10-8 in the doubles quarter-finals.

Second Round:
Magda Linette (Pol) [1] Bt Sowjanya Bavisetti (Ind) 6-2 6-2;
Rika Fujiwara (Jpn) Bt Oksana Kalashnikova (Geo) [6] 3-0 Retired;
Diana Marcinkevica (Lat) [3] Bt Sharmada Balu (Ind) 6-4 6-0;
Nungnadda Wannasuk (Tha) Bt Snehadevi S Reddy (Ind) 6-1 6-0; Keren Shlomo (Isr) Bt Miyabi Inoue (Jpn) 6-3 6-2;
Gioia Barbieri (Ita) [4] Bt Anna Shkudun (Ukr) 6-3 6-2;
Prerna Bhambri (Ind) Bt Peangtarn Plipuech (Tha) 6-4 6-0;
Kamila Kerimbayeva (Kaz) Bt Nicha Lertpitaksinchai (Tha) 5-7 7-5 6-0;

Quarterfinals:
Jocelyn Rae (Gbr) / Anna Smith (Gbr) Walkover Oksana Kalashnikova (Geo) / Magda Linette (Pol) [1];
Sharmada Balu (Ind) / Sowjanya Bavisetti (Ind) bt Tamara Curovic (Srb) / Diana Marcinkevica (Lat) [4] 6-7(1) 6-3 [10-8];
Ksenia Palkina (Kgz) / Jade Windley (Gbr) [3] bt Rika Fujiwara (Jpn) / Miyabi Inoue (Jpn) 6-4 3-6 [10-6];
Nicha Lertpitaksinchai (Tha) / Peangtarn Plipuech (Tha) [2] bt Nungnadda Wannasuk (Tha) / Emily Webley-Smith (Gbr) 6-7(7) 6-0 [10-7];