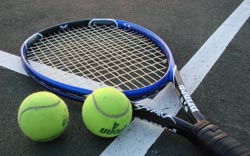 London: David Ferrer will return to The O2 arena for the fourth straight year after becoming the latest player to qualify for the Barclays ATP World Tour Finals, to be held in London from 4-11 November. The 31-year-old Spaniard is the fourth singles player after Rafael Nadal, Novak Djokovic and Andy Murray to qualify for the elite eight-man season finale.
"I'm very happy to qualify for the Barclays ATP World Tour Finals for the fifth time," said Ferrer. "At the beginning of the year it's always a goal to make it to London and if you finish in the Top 8 then you know that you've had a good season. The O2 is an amazing venue to play at and the great fans help to bring the event alive."
Ferrer, who qualified after reaching the quarter-finals at last week's China Open in Beijing, will be making his fifth appearance at the season finale. He achieved his best finish on his debut in 2007, finishing runner-up to Roger Federer at Qi Zhong Stadium – the site of this week's Shanghai Rolex Masters.

The Valencia native reached a career-high No. 3 Emirates ATP Ranking this season. After opening his 2013 campaign with his third straight Heineken Open title in Auckland, Ferrer recorded his 500th match win during the Australian Open and successfully defended his Copa Claro crown in Buenos Aires. He also reached the quarter-finals at all four majors for a second straight season, highlighted by his first Grand Slam final at Roland Garros (l. to Nadal).

"David has had another fantastic season on the ATP World Tour and he's hugely deserving of his place at this year's Barclays ATP World Tour Finals," said Tournament Director Andre Silva. "He has earned the respect and admiration of fans all over the world through his incredible performances and we look forward to welcoming him back to The O2 in November."
Four singles and five team berths remain up for grabs with four weeks remaining in the regular ATP World Tour season. Juan Martin del Potro, Tomas Berdych, Roger Federer and Stanislas Wawrinka currently hold down the fifth to eighth spots in the Emirates ATP Race To London.

Barclays ATP World Tour Finals – The Contenders
(Based on the calendar-year Emirates ATP Race To London standings as of Monday, 7 October 2013.)
Singles

Pos.

Name

YTD Points

1.

R. Nadal (ESP)

11,310

2.

N. Djokovic (SRB)

8,610

3.

A. Murray (GBR)

5,805

4.

D. Ferrer (ESP)

4,900

5.

J. del Potro (ARG)

3,820

6.

T. Berdych (CZE)

3,710

7.

R. Federer (SUI)

3,055

8.

S. Wawrinka (SUI)

2,970

9.

R. Gasquet (FRA)

2,950

10.

M. Raonic (CAN)

2,680

11.

J. Tsonga (FRA)

2,650

12.

T. Haas (GER)

2,175

13.

J. Isner (USA)

2,015

14.

N. Almagro (ESP)

1,930

15.

F. Fognini (ITA)

1,830

16.

T. Robredo (ESP)

1,765
Doubles

Pos.

Team

YTD Points

1.

B. Bryan (USA) / M. Bryan (USA)

12,705

2.

A. Peya (AUT) / B. Soares (BRA)

6,185

3.

M. Granollers (ESP) / M. Lopez (ESP)

3,440

4.

L. Paes (IND) / R. Stepanek (CZE)

2,990

5.

A. Qureshi (PAK) / J. Rojer (NED)

2,785

6.

I. Dodig (CRO) / M. Melo (BRA)

2,775

7.

D. Marrero (ESP) / F. Verdasco (ESP)

2,590

8.

M. Fyrstenberg (POL) / M. Matkowski (POL)

2,550

9.

M. Mirnyi (BLR) / H. Tecau (ROU)

2,470

10.

J. Benneteau (FRA) / N. Zimonjic (SRB)

2,265

11.

S. Gonzalez (MEX) / S. Lipsky (USA)

2,030

12.

J. Murray (GBR) / J. Peers (AUS)

1,905

13.

R. Bopanna (IND) / E. Roger-Vasselin (FRA)

1,850

14T.

T. Huey (PHI) / D. Inglot (GBR)

1,695

14T.

R. Lindstedt (SWE) / D. Nestor (CAN)

1,695

16.

M. Llodra (FRA) / N. Mahut (FRA)

1,515
- See more at: http://www.indiansportsnews.com/hot-picks/24022-ferrer-qualifies-for-2013-barclays-atp-world-tour-finals.html#sthash.vhq9ccyx.dpuf