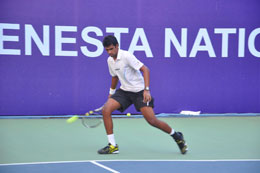 New Delhi: Mohit Mayur Jayaprakash and Arjun Kadhe had an incredible day on Friday. Both the boys first recorded impressive wins to reach the men's singles final and then teamed up to win the doubles final title of the Fenesta Open National Tennis Championship.

Mohit and Arjun were a game down in the first set but then turned it on from there to beat P.C. Vignesh and Fariz Mohammed 6-4, 6-4 at the R.K. Khanna Tennis Complex.

Earlier in the day, Mohit defeated former national champion Nitten Kirtane 6-1, 2-6, 6-2 to make it to the title clash, while Arjun had a relatively easy outing against Chandril Sood 6-2, 6-1.

In the women's singles final it will be defending champion Prerna Bhambri up against top seed Shweta Rana, both of whom recorded contrasting wins in their respective semi-final matches on Friday.

While Shweta was pushed to three sets by fifth seed Sharmada Balu, before the former edged past with a 4-6, 6-1, 6-1 win, Prerna knocked out sixth seed C Sai Samhitha 6-2, 6-1.

The big-serving Mohit started the day with his intentions clear and broke Nitten in the fourth and sixth game of the opening set to finish it in barely 30 minutes. However, Nitten brought his experience into play and broke his rival twice in the second to take the match into the decider.
But Nitten couldn't cause an upset in the third set and Mohit sealed the issue to make it to the final.

In the women's singles semi-final, Prerna remained on course to defend her title after she went past Samitha with relative ease. She converted the breakpoints that she earned and never allowed the game slip away from her reach.

Prerna broke Samitha twice in the opening set and the sixth seed Tamil Nadu girl just couldn't hold on to her serve in the second. Samitha did break Prerna in the fourth game but that couldn't help her cause as she failed to hold her serve even once in the set.
In the boys under 18 doubles final, Deepak Vishwakarma and Aditya Deswal got the better of Alex Solanki and B.R. Nikshep 6-3, 6-4, while Snehal Mane and Nandini Sharma were crowned champions in the girls under-18 doubles with a 6-0, 4-6, 10-7 win over Vanshika Sawhney and Himani Mor.

Fenesta Open National Tennis Championship:
Mens Singles- Semi-Finals
Mohit M Jayaprakash vs Nitten Kirrtane Winner Mohit M Jayaprakash 61,26,62
Chandril Sood vs Arjun Kadhe Winner Arjun Kadhe 62,61

Ladies Singles- Semi- Finals
Shweta Rana vs Sharmada Balu Winner Shweta Rana 46,61,61
C Sai Samitha vs Prerna Bhambri Winner Prerna Bhambri 62,61

Boys 18 Singles- Semi-Finals
Mukund Sasikumar vs Dalwinder Singh Winner Mukund 62,63
Udayan Bhakar vs Hardeep S Sandhu Winner Hardeep 62,62

Girls 18 Singles- Semi-Finals
Teertha Iska vs C Sai Samhitha Winner Samhita 63,60
Simran K Sethi vs Karma K Thandi Winner Simran K Sethi 64,36,64

Mens Doubles- Final
PC Vignesh/Fariz Mohammed vs Arjun Kadhe/Mohit M Jayaprakash Winner Arjun Kadhe/Mohit M Jayaprakash 64,64

Boys 18 Doubles- Final
Alex Solanki/BR Nikshep vs Deepak Vishwakarma/Aditya Deswal Winner Deepak Vishwakarma/Aditya Deswal 63,64

Girls 18 Doubles- Final
Vanshika Sawhney/Himani Mor vs Snehal Mane/Nandini Sharma Winner Snehal Mane/Nandini Sharma 60,46,10 7.