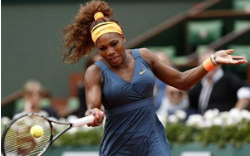 New York: Serena Williams was absolutely devastating in her quarterfinal match at the US Open on Tuesday night, dropping 20 winners in 52 minutes to beat Carla Suárez Navarro, 6-0 6-0.

With a very impressive differential - those 20 winners far outweighed her nine unforced errors - the No.1-seeded Williams was never in trouble against the No.18-seeded Suárez Navarro, her power game clearly sharp and her defense strong too, letting just three winners from the Spaniard go by her.

Williams is now through to the 24th Grand Slam semifinal of her career, and her record in those Grand Slam semifinals is only slightly less terrifying than her performance against Suárez Navarro: 20-3.

Awaiting Williams in that semifinal is No.5 seed Li Na, who won her quarterfinal against No.24 seed Ekaterina Makarova earlier in the day (read more here). Williams leads Li in their head-to-head, 8-1.

Courtesy: www.wtatennis.com