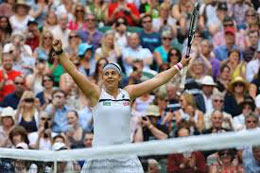 London: France's Marion Bartoli beat Sabine Lisicki of Germany in straight sets 6-1, 6-4 to win her first Grand Slam title at Wimbledon here on Saturday.
Winning takes talent, and to repeat it takes character. This is what Sabine Lisicki might be thinking of after her loss to Bartoli as the German failed to put up a strong fight in the match that lasted just 81 minutes.
Meanwhile, Bartoli kept her streak of not dropping the set in her seventh match in this year's Wimbledon, but the major contribution for that came from her German counterpart who made as many as 25 unforced errors. Lisicki broke Bartoli in the opening game but couldn't hold herself from making errors and lost her own serve.

Bartoli managed to take a lead of 3-1 as she kept coming back with powerful forehands and with series of them coming in the sixth game, she was soon ahead by one set (6-1).
Lisicki was down and out after her first set as could be seen in her body language. Though she came back strong after a break and earned four break points in the second game, the Frenchwoman stepped up her game to make the German uncomfortable as she came up with series of winners to take her lead to 2-1.

Lisicki broke into tears when she was serving at 3-1 down but Bartoli was in no mood to show any mercy as she took a lead of 5-1. As the dream of winning the Wimbledon was close to Bartoli, she saw some late resistance in the match from Lisicki but that wasn't enough to stop her as she won the second set 6-4.