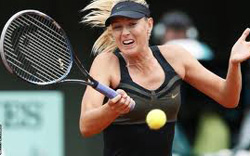 Paris: Second seed Russian, Maria Sharapova showed her utter dominance to thrash Canadian Eugenie Bouchard by 6-2, 6-4 to reach the last 32 of French Open here on Friday. This match was scheduled for last evening but due to rain it was postponed to Friday.

Sharapova started off brilliantly by pocketing the first set by 6-2 and went on to take a lead in second set as she was 4-2. Russian took just four more games for her to wind up the match when her opponent hit long under pressure.

The Russian has been an epitome of uniformity this year as she had won tournaments at Indian Wells and Stuttgart, though she had a tough time against the best in the business, Serena Williams at Doha, Miami and Madrid.

She is now on a nine-match winning streak at Roland Garros having completed her collection of Grand Slam titles in Paris last year, the seventh woman in the Open era to achieve that feat.

Sharapova will go into next round to battle it out against the China's Zheng Jie, who knocked out Melanie Oudin of the United States 6-3, 6-1 from the French Open.

There was more Russian success when Maria Kirilenko eased past Australian junior hope Ashleigh Barty 6-3, 6-1.

Meanwhile, Marion Bartoli had another tough outing but she managed to pull it off by showing some great come-back and went onto win, (7/5), 7-5 win over Colombian qualifier Mariana Duque-Marino.

She has spent over five hours on court in just couple of matches that she has played and entering into next round will make her road to reach the finals even tougher. She was further disturbed by being given a warning for seeking coaching from her father Walter, an ever-present at all the former Wimbledon finalist's matches.