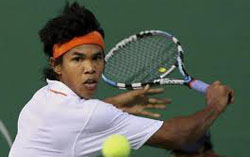 New Delhi: The stalemate between All India Tennis Federation and rebel players ended on Saturday with all the 11 players making themselves available for the tie against Indonesia. It came a day after AITA gave all the assurances to players with regard to Davis Cup playing conditions in writing.

Informing about the development AITA CEO Hironmoy Chatterjee said, "We have got an e-mail from Somdev that all of them are available for the tie against Indonesia."

According to the e-mail received by AITA, the issues have yet not been resolved but the players have confirmed their availability for the Indonesia tie, subject to all of the conditions in the letter written by the tennis body to players on February 7 being unconditionally complied with by the AITA. "Given that a number of the issues that we as players have still raised remain unresolved, our confirmation of availability is limited to the said Indonesia tie," says the e-mail by Somdev on behalf of the rebel players.

The players have also communicated that though they don't intend to have a final say in the selection of support staff and the captain, they do hope their suggestions would be complied to. "We do not expect to have final say on the matter but hope to have our inputs seriously taken as it is the players ultimately who end up sitting next to the captain in the high pressure match situations," says the e-mail.

On the insistence of the players, AITA had relieved coach Nandan Bal, doctor Vece Paes and physiotherapist Sanjay Singh. But AITA stuck to Misra as captain and appointed Zeeshan Ali as new coach when the players preferred Aditya Sachdeva.

The players, led by Somdev Devvarman, had put forward a charter of demands before the national tennis federation ahead of the Chennai Open. AITA yielded to most of the demands but the players refused to play the Korea tie since they did not get a few assurances in writing.

AITA agreed to increase players' share in Davis Cup prize money, change the support staff and consult them for choice of venue and surface. The parent body also agreed to give the players business class airfare, a six-member squad for even away ties, and agreed to consult them for the appointment of team physiotherapist.


With the availability of key players, India can now choose from among its top players for the Asia/Oceania Group I 1st round play-off tie against Indonesia, scheduled for April 5-7 in Bangalore.