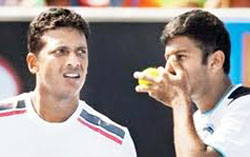 New Delhi: In order to safeguard their interests in the future, the disgruntled players who had rebelled against the All India Tennis Association (AITA) but had signed peace later, formed the Indian Tennis Players Association (ITPA) to handle "contemporary issues" that have not been addressed by AITA.

Though making themselves available for the Davis Cup tie against Indonesia later this year, the 'rebels' have now come up with the ITPA to address players' concerns. In a statement issued by the players, ITPA would be a Not-for-Profit association and has been constituted as a Section 25 Company. "It is built on the premise that the existing structure of tennis administration in the country does not represent or adequately address contemporary issues faced by players in the country," statement from the players said.

The founding members of the ITPA include Jaidip Mukerjea, Mahesh Bhupathi, Karti P Chidambaram, Enrico Piperno, Manisha Malhotra, Prahalad Srinath, Somdev Devvarman, Rohan Bopanna, Aditya Sachdeva and Mustafa Ghouse.

Mukherjee has been made interim President of the body."Mr. Jaidip Mukerjea, will act as interim President in the ITPA's formative period until the General Council and the General Body of the ITPA formally meet.

"The founding member players of the ITPA believe that Mr. Mukerjea will bring a balanced and objective view to the running of the organisation given his past accomplishments as a Davis Cup player and captain as well as a respected statesman," the statement read.