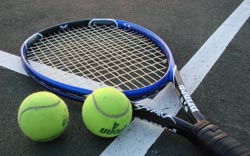 Pune: Local girl Vasanti Shinde and Tamil Nadu's Vasudev Vijayaraman are in line for a double crown at the Walchand Cup Under-16 National Series Junior Tennis Tournament being organised and hosted by Deccan Gymkhana on Friday.

Sixth seed Vasanti Shinde shocked second seed Akshara Iska of Andhra Pradesh 6-4, 6-0. She will play third seed Devanshi Bhimjiyani in an all-Maharashtra final. In the other semi-final, Devanshi stunned top seed Vanishka Sawhney 6-2, 6-1 in an hour.

Vasanti then joined Dhruti Venugopal to beat R.Abhinikka/ A.Shamima 6-2, 6-4 in the girls doubles final.

In the boys' semifinals, unseeded Vasudev Vijayaraman knocked out fifth seed S D Prajwal Dev 6-3, 6-7 (6-8), 6-4 in the match of the day. Vasudev kept his composure after losing a closely fought second set tie-breaker to win the decider 6-4 and with it the two-and-half hour battle.

Vasudev will face seventh seed Dalwinder Singh from Punjab. Singh didn't even have to take the court, as his semi-final opponent, sixth seed Indra Patwardhan from Pune, didn't show up, as he had already left for a tournament in Bangladesh.

Vasudev later joined his semi-final opponent S D Prajwal Dev to beat Dalwindar Singh/Dheer Bhatti 3-6, 6-3, 13-11 in a cracker of a boys doubles final.

The singles finals would be played on Saturday morning.
Results:

Boys, Singles, SF: 7-Dalwindar Singh (Pun) w/o 6-Indra Patwardhan (Mah); Vasudev Vijayaraman (TN) bt 5-S.D.Prajwal Dev (Ktk) 6-3, 6-7(6-8), 6-4.

Girls, Singles, SF: 3-Devanshi Bhimjiyani (Mah) bt 1-Vanshika Sawhney (Dli) 6-2, 6-1;6-Vasanthi Shinde (Mah) bt 2-Akshara Iska (AP) 6-4, 6-

Boys, Doubles, Finals: S.D. Prajwal Dev/ Vasudev Vijayaraman bt Dalwindar Singh/Dheer Bhatti 3-6, 6-3, 13-11.

Girls; Doubles; Finals: Dhruti Venugopal/Vasanti Shinde bt R.Abhinikka/A.Shamima 6-2, 6-4
By Indian Sports News Network