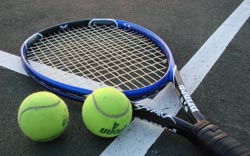 Bangalore: The Karnataka State Lawn Tennis Association will host 10 weeks of International Tennis Federation (ITF) circuit, with the first event scheduled to be held at Mandya from May 28 to June 3.
State Minister for Home and Transport R. Ashoka, who is also the senior vice-president, KSLTA, said at a media conference here Monday night that the ITF events will be spread across various district headquarters in Karnataka.
The first three tournaments will be held at Mandya (May 28 to June 3), Mysore (June 4 to June 10) and Bangalore (June 11 to June 17).
The Minister said: "Karnataka will be the first state association in India to have 10 weeks of international circuit. Such tournaments provide gamut of opportunities for the budding international players from the country and the state to participate and compete with their international counter parts.
"The State government has always been supportive and has provided best of the facilities to promote tennis and sports at large; our goal is to help promote the growth of this game across the state where the interest in tennis is exploding."
Speaking on the occasion, All India Tennis Association vice-president Karti Chidambaram said the federation would focus more on hosting ITF and Challenger tournaments rather than ATP events for which very few, if at all, Indians qualify.
"I think one showpiece event like Chennai Open is more than enough for the country. We also look at the fact that Indian players hardly make it to the main draw of the ATP events in singles and it serves no purpose in holding more such tournaments when there is no tangible benefit for our players.
"It is better to have more such tournaments (ITF and Challenger) at home because it is much cheaper and affordable for Indian players to play at home and earn points.
"Since January 2012, we have conducted six tournaments in as many months, including four men's ITF and our players like Jeevan Nedunchezhian and Sriram Balaji have won titles in such events.
"This year, we plan to hold 25 to 30 tournaments here and states like Karnataka have taken the lead in this respect with KSLTA planning to hold six men's and four women's ITF."