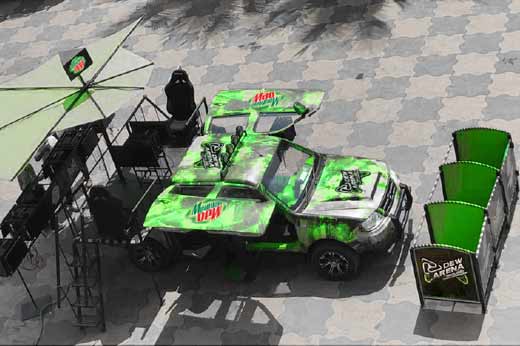 New Delhi: Riding on the success of the debut edition, the stage is set for the grand finale of India's largest gaming championship- the second edition of Mountain Dew's Dew Arena. The hugely successful Dew Arena will culminate on 1st October 2017, after an exciting six-month pan-India journey through 300 locations and 125 cities.
24 finalists from across India will battle it out at the grand finale at New Delhi's Hotel Andaz by Hyatt to ultimately be crowned as the top 12 winners. This event will see the presence of six of the most prominent names in the global gaming scenario – Hector Rosario, gaming commentator and CEO of international esports organization, Flipside Tactics; Dana Kawar, CMO, FlipSide Tactics; Niels Wolter, MD, ESL, the world's oldest professional esports organization; Yegor Markelov, among the best Counter Strike 1.6 players in the world; Antwan Ortiz, celebrated International Street Fighter Gamer and David Lawrie, one of the highest ranking players for International Rocket League Gamer globally.
The six gaming icons will lend their expertise as analysts at the grand finale. At an exclusive meet and great, they will also give budding enthusiasts tips to hone their gaming skills.
The second year of the Dew Arena saw unprecedented participation from gaming enthusiasts, with over 350,000 people participating across India. In a bid to take the experience of gaming to the masses, Mountain Dew's disruptive gaming trucks featured popular games such as Street Fighter V and Rocket League. Games like Counterstrike and DOTA were also available on PC. The 2017 edition of Dew Arena received phenomenal digital participation and reached out to over 24 million online users. The power packed finale will see the leading teams vie for a prize pool of INR 20 lakh and the chance to have their profile featured on a set of limited edition Mountain Dew PET bottles.
The grand finale will be preceded by an exciting semifinal match in New Delhi on 29th September. As a first for a live telecast of eSports, the country's largest gaming championship will be broadcast live on DSport – the premium sports channel from the Discovery Group and the Facebook and YouTube pages of Mountain Dew India and ESL.
Speaking at the event, Naseeb Puri, Associate Director, Mountain Dew, PepsiCo India said, "The 2nd edition of Dew Arena saw tremendous positive feedback from consumers across the country. We are extremely proud to bring the stalwarts of the gaming ecosystem together on one platform to celebrate India's largest gaming championship. As a brand, Mountain Dew has always encouraged youth to break out of the ordinary to make a name for themselves and Dew Arena is the perfect platform for this."
Echoing her thoughts, Akshat Rathee, MD, ESL India, "ESL India is delighted to partner with Mountain Dew for the second year in a row. The Dew Arena is the country's largest gaming platform and was developed to encourage and celebrate the gaming community. In a short span of two years, we have established the Dew Arena as a leading authority on e-sports in India. ESL India and Mountain Dew have taken gaming to the masses and we are looking forward to an exhilarating finish to an action packed second edition."