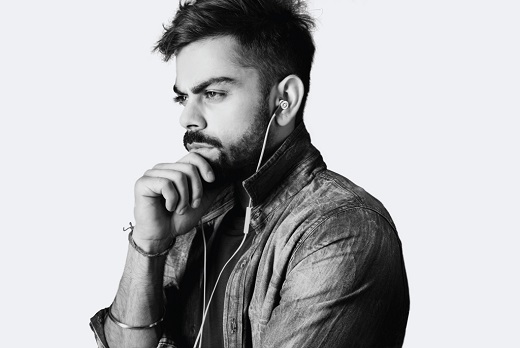 Mumbai: MuveAcoustics, the personal lifestyle audio brand for urban consumersfrom Zeeva, a Hong Kong-based global consumer electronics company, in partnership with Indian Cricket Captain Virat Kohli today announced the launch of its multimedia campaign Inside Is Everything (#InsideIsEverything) created by TBWA\India with the ace cricketer himself, to announce its launch in India. MuveAcoustics' extensive product catalogue, featuring innovative audio solutions are designed specifically to meet the evolving requirements of the new-age consumer and with the campaign, the brand aims to introduce their brand's high performance audio equipment range to the Indian consumers.
Also Read: Mahendra Singh Dhoni vs Virat Kohli: Who is a better captain?
MuveAcoustics' range of highly innovative products is backed by its parent company's extensive experience in designing, engineering, and manufacturing high-performance audio products. Its innovation quotient is supported by its exquisite style statement, which is why ViratKohli has been deeply involved with the brand, engineering solutions worthy of the young Indian consumer base.
Introducing the brand cricketing superstar ViratKohli, who has been associated with the brand since its inception, said, "Young Indians today, including me, are uncompromising about their entertainment experience and the gadgets they use for the same. This is what makes the launch of MuveAcoustics such an exciting development. Backed by Zeeva's 30+ years of domain expertise, the brand is providing consumers with acoustic solutions designed specifically to deliver the best sound quality. Having been associated with it since the very beginning, I know first-hand the kind of appeal its diverse and innovative products hold for people of my generation"
The #InsideIsEverythingcampaign created by TBWA\Indiawill be showcasing the struggles faced by Virat during his awe-inspiring journey to sporting pinnacle.Virat is not only a mega athlete but also a huge icon for youths worldwide. The 3 minutes film is a celebration of what's inside him. It explores the thought that what's inside us orchestrates what we do on the outside. It is true of us and also MuveAcoustics's high performance audio gear. The campaign took six months from ideation to execution. It was developed after in-depth understanding of Virat's life thus far and includes direct inputs from Virat himself. The intent was to tell an authentic story about Virat and not get lost in the sea of celebrity advertising.
Announcing the campaign, Nitin Butani, Vice President Zeeva, said, "TBWA\ India's strategy backed by relevant insights and superlative creativity has allowed us to make an impactful entry in the Indian market. The entire team at TBWA\India and Boot Polissh Films executed our vision flawlessly and we are delighted to have the opportunity to share an authentic story."
Parixit Bhattacharya, Managing Partner-Creative TBWA said, "I love Nitin and Akshay's vision for MuveAcoustics. They have piercing clarity about where the brand should be. We wanted to tell an authentic story with a voice that was distinct. When I narrated the script to Nitin, he said he had goosebumps. That point onwards we knew we had something we could really play with. I must acknowledge the unwavering dedication of all at Boot Polishh throughout the project, especially Shujaat. We also spent a considerable amount of time on the music strategy. Eventually, Stealth's Judgement Day seemed to be the track that gave the film another layer and the right atmosphere.Being a audio gear brand music was of paramount importance."
ShujaatSaudagar, the director of the MuveAcoustics brand film said, "The film embodies everything ViratKohli stands for, as a symbol of leadership, passion and courage, he has been able to overcome every obstacle thrown at him. And this is because there is a solid foundation inside him and that is what the product MuveAcoustics is built on, Inside Is Everything "