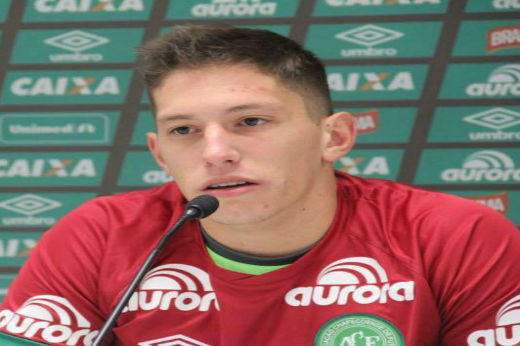 Rio de Janeiro: Brazilian football club Chapecoense's tragic plane crash survivor Jakson Follmann has revealed plans to marry girlfriend Andressa Perkovski as he prepares to be released from hospital.
The 24-year-old, the last of the six survivors still in hospital, is due to be discharged on Tuesday, reports Xinhua.
"When I return to my normal life you can be sure that we are going to get married," Follmann said in an emotional interview with Brazil's TV Globo on Sunday.
Also Read :Barcelona crush Eibar 4-0 in La Liga
Seventy one people died, including 19 Chapecoense players and all of their coaching staff, when the LaMia plane in which they were travelling crashed near Medellin, Colombia, on November 28.
The accident occurred less than two days before the small Brazilian team were due to play Colombia's Atletico Nacional in the first leg of the two-match Copa Sudamericana final.
Follmann lost the lower half of his right leg in the accident and will be fitted with a prosthesis next week.
The former goalkeeper broke down in tears as he recalled the moment of the crash.
"I remember when the (engine) turned off and the lights went out," Follmann said.
"I knew that something was wrong. The plane didn't plummet to the ground. After the engine turned off, it started to float slowly.
"I don't remember the moment of impact. I woke up before the paramedics arrived. I opened my eyes. It was really dark and it was cold. I was shaking from the cold. I shouted, 'Help, I don't want to die!'. There were others who also shouted. Then I heard the paramedics arriving."
Chapecoense played out a 2-2 draw against Brazilian champions Palmeiras in their first game since the plane crash on Saturday.
Tears were shed before the match at the Arena Conda Stadium in Chapeco by families and friends of the victims of the accident.
Follman went in a wheelchair onto the field where he had seen his club jump from the fourth division series to the first in just seven years.
Follman and two other players who survived the accident - Helio Hermito Neto and Alan Ruschel - raised above their heads the Copa Sudamericana trophy, which had been awarded to the club at the request of Atletico Nacional, their opponents in the Copa Sudamericana final.