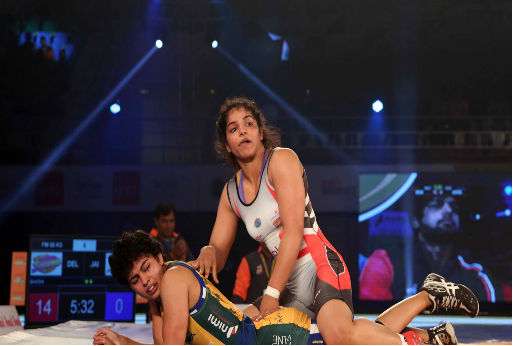 New Delhi: Colors Delhi Sultans will face Haryana Hammers in the KD Jadhav Indoor Stadium, in New Delhi on Wednesday.
However, in the second season of Patanjali Powervita Pro Wrestling League encounter, all eyes will be set on between Sakshi Malik and Marwa Amri in the 58 kg category bout.
While Sakshi became the first Indian women wrestler to win an Olympic medal, Marwa created history as she was first women medalist from her country Tunisia. It makes the tussle between two wrestling icons more interesting.
Also Read: Sindhu, Sakshi's performances; Ashwin, Virat's exploits highlights of 2016
Both grapplers are yet unbeaten in the league. However, being a marquee player Sakshi has got more opportunities and playing like a champion she never let her opponents to score a point in her both bouts. First she defeated Jaipur Ninja's Pooja Dhanda and later outmuscled national champion Manju. On the other hand, Marwa has got just one bout, in which he has performed impressively.
Meanwhile, Sakshi's fiancé Satyavart Kadian, who has registered a massive 14-4 win over Krishan Kumar of NCR Punjab Royals, will face a tough challenge from former world champion Abdusalam Gladisov.
Welcoming news for Delhi is that their Mongolian grappler Erdenebat Bekhbayar in 57kg and Indian grappler Bajrang Punia in 65kg are now completely fit and will be crucial against Haryana. Even in 74kg weight category, Praveen Rana has better record than his counterpart Sumit Sehrawat.
Amongst women, Rio Olympic silver medalist Mariya Stadnik of Azerbaijan and Alina Makhynia of Ukraine possess a good challenge against their weaker opponents. Mariya will face Indu Choudhary while Alina will take on Kiran in 75kg category.
The challenging bout will be in 53kg category between Sofia Mattsson and Sangeeta Phogat, along with bout between World champion Magomed Kurbanaliev and David Tlashadze of Georgia in 70kg.
Delhi team co-owner Anurag Batra and Gaur Gupta are confident about Sakshi's win.
"She is a champion. She has not just raised India's reputation at the international level but has also given a new direction to women in her country to follow their dreams," they said.
On the other Haryana team's co-owner is of opinion that their team is in full swing and no one can stop them now.
"We have a current world champion, a former world champion, an Olympic silver medalist and one bronze medalist. We are the title contenders for sure," he said.