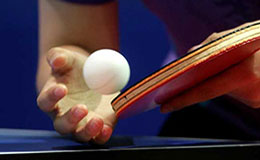 New Delhi: Keeping an unbeaten record unseeded Japanese Fumiya Igarashi defeated Manav Thakkar of India, the No.3 seed, to emerge winner in the Junior Boys singles final of the 2017 Thailand Junior and Cadet Open, an ITTF Golden Series Junior Circuit event, in Bangkok.
India also had to satisfy with a silver medal in the Hopes Boys when Preyesh Suresh Raj went down to Iran's Amir Mohammad Samadi 2-3 in a tough final.
The Japanese beat the Indian 11-8, 6-11, 11-4, 11-9, 11-5, who had beaten higher-rated adversaries in the semifinal and quarterfinal. In the last eight, he beat Tai Ming-Wei, the No.4 seed 11-5, 11-8, 11-7, 11-8, then overcame Lin Hsin-Yang, the No.2 seed, in what proved to be his toughest contest of the whole tournament in which he emerged successful 11-9, 12-10, 8-11, 8-11, 5-11, 13-11, 11-8.
As for Manav had beaten Singapore's Gerald Yu Zong Jun, the No.13 seed 11-9, 11-6, 14-12, 11-4, in the quarterfinals and then went on to record his semi-final win over Seiya Nishimura (11-4, 11-4, 11-6, 11-8), also of Japan, who had toppled top-seed Yi-Hsin Feng from Taipei. In the round of 16, the Indian sent Lau Chun Kit from Hong Kong packing with a 4-0 verdict.
Like Manav, No. 2 seed Preyesh Suresh Raj of India had to be content with the silver medal when he went down to top-seeded Samadi in the Hopes singles final. The Iranian won 11-9, 8-11, 11-7, 8-11, 11-2. The paddler also beat Tharun Shanmugan in the semi-final 11-7, 11-5, 11-9 before securing his place in the final. In the corresponding semi-final, Preyesh Raj had recovered from a two-game deficit to beat Singapore's Izaac Quek Yong 8-11, 9-11, 12-10, 11-7, 11-6.
Earlier, the Indians had won a bronze in Junior Boys team event.
Team for South Asian TT
Meanwhile, a 14-member strong Indian team will travel to Sri Lankan for the South Asian Junior Table Tennis Championships, beginning at Mount Lavinia, near Colombo, tomorrow. The team is lead by Manav Thakkar in the boys' section, while the girls' spearhead will be Archana Kamath. Ganeshan Neelakanta Iyer is the competition manager for the three-day championships which get underway from May 19.
The squad:
Boys: Manav Vikas Thakkar, H. Jeho, Jeet Chandra, Manush Shah, Parth Virmani, Payas Jain and Chinmaya Somaiya.
Girls: Archana Kamath, Anusha Kutumbale, Moumita Datta, Priyanka Pareek, Selena Deepthi Selvakumar, Swastika Ghosh and Vanshika Bhargava.
Coaches: A. Muralidhar Rao and Jyoti Shah
---