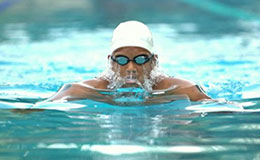 Port Elizabeth: JSW swimmers Bengaluru's Likith SP and Chennai native Danush Suresh clinched bronze medals in the 100 meters breaststroke under-18 and under-16 categories respectively at the South African National Level 3 Swimming Championship at Port Elizabeth on Sunday night.
While Likith took bronze with a time of 1.06.30 seconds in the under-18 section, Danush came third logging a time of 1.07.85 seconds in the under-16s. Daniel Swanepoel took gold in the under-18 class with a timing of 1.05.48 seconds while Ude Fuchs placed second with a time of 1.06.24 seconds. In Danush's division, Duncan Rudolph was placed first with a time of 1.04.92 seconds while Gareth Kemp followed him with a time of 1.06.95 seconds.
Likith and Danush are part of a seven-strong contingent of young Indian swimmers who are training under renowned South African coach Graham Hill on a scholarship fully funded by the JSW Sports Excellence Program.
Coach Hill said that though he was happy with Likith and Danush's performance in the pool, there was still quite some work to be done in terms of planning race strategies better. "The boys did well today but there are a few areas that I think we need to work on. The lads need to plan their races better, need to understand when they have to really step up a gear and also understand what signs their body is giving them. But I believe these two medals are a good start," he said.

Racing under the flag of the Seagulls Swimming Club, based out of Durban, both boys ensured that they put in strong performances, holding off their rivals comfortably.
Hill maintained that constant exposure in competitions featuring such high-quality swimmers was the right way to prepare the seven swimmers to handle pressure and assess their performance. "The lads raced against the best South Africa has in their respective age-groups. When they go back to Durban, they will have a good marker of where they stand, the areas they would want to concentrate on and I think all this will help them grow as competitive swimmers." he said.
The South African Level 3 National Championships attract the cream of the Rainbow Nation's swimming talent. Swimmers are split into age categories which start from under-12s and go up to the under-18s. While all seven Indian swimmers are competing at the tournament, Likith and Danush were the first to earn medals.