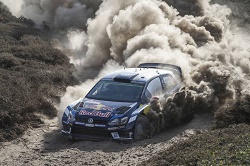 Chennai: Former national racing champion Ashwin Sundar and his wife Nivedhita died in a horrific car crash early on Saturday morning.
According to early information reaching here, the couple was returning home around 3.30 am when its BMW ploughed into a roadside tree on the Santhome High Road in Chennai. The car burst into flames and the duo got charred to death.

Police officials confirmed that Ashwin and his wife could not open the doors and remained trapped in the flaming car.
"It's a sad day for motor sports," FMSCI president Akbar Ebrahim tweeted. "I knew Ashwin since he was an infant and I saw him excel in all formats of the sport. May his and his wife's soul rest in peace," he added.
Thirty-one year old Ashwin took to racing early in his life and won many titles in his illustrious career. In 2006, he was adjudged Champion of Champions in India after winning the 115cc 4-stroke and 150cc 4-stroke titles. As recently as in 2012 and 2013 he became the country's undisputed F4 champion as well.
His wife Nivedhita was doctor at a private hospital.
Passersby gathered around the car but couldn't do anything to douse the fire or save the couple due to the continuing explosions. One of them alerted the Chennai city police control room. Fire and rescues personnel from nearby Mylapore rushed to the spot and battled with the inferno for over half an hour. In the end, however, they could only recover the charred bodies.
It was later learnt that Ashwin and Nivedhita were coming back from a friend's house at MRC Nagar. They lived not too far away in Alapakkam near Porur.