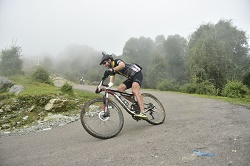 Shimla: The 7th stage of the Hero MTB Himalaya started in the picturesque valley of Barot from where the riders climbed towards the village of Bada gram . From ere they followed a very old horse trail which proved technical for most riders towards rajgunda. The riders then took on te forest path towards billing - the second highest para gliding site of the world . It was Andi who took the lead right from the first climb but was briefly overtaken by Jason . The riders had to weather heavy rains as the entered the Palampur region and against all odds put up a great show !
Andi finished the day first followed by Jason and Cory in the third place . Looks like Andi has secured the title with just one stage to go . The total distance of the day was 87 km from Barot to Palampur . The race will

Be camping at the Agriculture university palampur (csshkv)Here are the top 3 riders / teams across categories for today's stage .
Open men solo

Andi Seewald

Jason English

Cory Wallace
Open women solo

Catherine Williamson

Ilda pereira

Naima Madlen
Team of two

Andreas Hartman and Manuel wesseinbacher

Frank and Monica Eggert

Lokesh and Naveen
Masters solo

Johan labschunge

Marcus Werf

Sunil barongpa
Grandmaster solo

Ruben

Jack funk

Willibert Dreesen