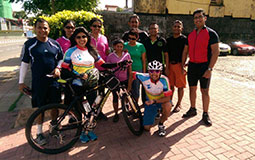 New Delhi: The cycle ride across Sri Lanka by India's leading woman cyclist Vamini Sethi was flagged off from Colombo by local women cyclist group 'Pedal Pushers'. She will ride across the island nation over a span of 9 days from 14 June - 23 June 2015 and will cover a distance of approximately 1000 kilometres.
Vamini has undertaken this expedition to promote mountain cycling among women in India and other South Asian countries. Her flag off from Colombo saw tremendous support from various local cyclist groups in Sri Lanka. Vamini is riding on a UT Edge Bike, an ultra-premium brand from Hero Cycles group.

Vamini Sethi, a successful banker at the Royal Bank of Scotland, Gurgaon and Ashish Sood from HASTPA, set off their journey from Colombo heading to Mirissa; covering a distance of approximately 146 kilometres before coming to a halt on Day 1.

"I would like to thank HASTPA and UT Edge bikes for their immense support. Heartfelt gratitude to the women cyclist group of Colombo 'Pedal Pushers', which includes Lalanthi Rajapakse, Dharshini Ariyaratne and also Sanjeevan Jeevaratnam and cycle.lk for their support. I have taken up this challenge for a good cause and without the support of all the partners it would have not been possible to start off this challenge" said the enthusiastic Vamini Sethi. She is undertaking this excursion to support women, to bring out the extraordinary in every woman.

Ashish Sood - Director - Strategy and Communications ( HASTPA) who himself is a well-known mountain biker will be riding along with Vamini across Sri Lanka as a technical support.