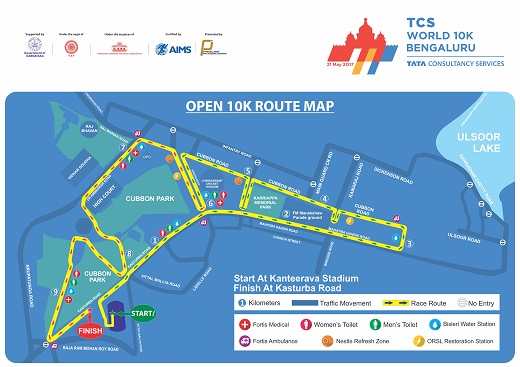 Bengaluru: With more than 23,000 runners ready to hit the streets of Bengaluru on 21st May 2017, Procam International in association with the Government Authorities today announced their preparedness to host the tenth edition of the TCS World 10K. Announcing the route, which stays similar to the previous year, with medical & logistical measures for the run were Race Director Hugh Jones, Medical Director Dr. Vivek Jawali and Representatives from the State Police Authorities along with Dilip Jayaram, CEO, Procam International.

With five different race categories to be flagged off at Kanteerava Stadium on Race Day with a revised early start of 5:30 AM, prior to sunrise at 5:53 AM and in minimum expected temperatures of 22 Degree Celsius, the Open 10K will be the first run to be flagged off at 5:30 AM.
The Open 10K that has more than 13,700 registered runners, a steep increase of 12%, will be followed by the city's favourite Majja Run which commences at 6:45 AM. The Senior Citizen run, with an expected participation of more than 960 participants will begin at 7:15 am followed by the World 10K for the Elite Women and 4km Champions with Disability Run that will be flagged off at Kanteerava Stadium at 8:00 AM and 8:15 AM respectively. Closing the day and the celebratory tenth edition of the run will be the marquee run of the TCS World 10K, the Elite World 10K for Men which will start from the stadium at 8:50 AM.
With the route that replicates the previous years, the route will have boast of minimal turns and more variations in terms of terrain. The runners will also benefit from a gradient path and concluding their run through the Cubbon Park stretch, which is the fastest one since it's just a downward descent.
Commenting on the course, which remains same, Race Director Hugh Jones shared, "While the course is exactly the same, I noticed the roads are a little bit different, the surface quality of the roads is remarkably better. With the old days of the metro construction, some roads were quite rough and dusty but with the construction now over, the course is immaculate and I'm hopeful that any slight impact of the temperature might be replaced by the smooth surface they have to run on." Continuing with his comments on the temperature and the later start time, Jones was quick to clarify, " These athletes are not likely to be running into any difficulties just because it's a little bit warmer, these are people that have trained throughout their lives and can perform under any condition which are thrown at them so we are not that concerned about there being any possibilities of them suffering."
For this year's run, the medical partners Fortis Hospitals have equipped a base camp with 35 beds at the finish and three medical stations along the route. At both the finish lines there will be medical personnel present equipped with stretchers and wheel chairs to attend to immediate emergency requirements in addition to eight Ambulances. Five Medics on Bikes would also be moving along the race route to ensure help is made available at all times. Fortis has also made available 25 Doctors on Race Day spread across the Medical stations and base camps.

Commenting on their seven-year partnership with the TCS World 10K Run, Medical Director Dr Vivek Jawali said, "While there will be a huge number of people participating in the run, it is important for us to ensure that there is availability of medical help if required. Fortis Hospitals along with the traffic police has made arrangements for on ground medical assistance. From our hospitals, 170 medical personnel will be present that includes 25 doctors -- Chief Consultants, Anesthetists, Orthopedics, ICU care in charge, Cardiologists, General Physicians and Physiotherapist. As a helping hand to doctors, 75 nurses who are well trained for basic and advanced cardiac life support will be present. We are also prepared to address any emergency situations and have ambulance staff and bio-medical engineers ready for the same at the venue. We understand the need to have a comprehensive arrangement of all medical facilities at the venue, therefore, have tried to bring together the well-trained staff for any help required."He added, "Fortis Hospitals has been taking the initiative to educate people on the importance of organ donation. Moreover, the hospital will be conducting CPR training session to Pacers and water station Volunteers on Saturday 20th May 2017."

8 Water Stations to be manned by Running Clubs
To keep all participants sufficiently hydrated there will be 8 water stations along the route, from where around 75,000 liters of water will be distributed, through Bisleri bottles and Bubbles, all managed by various runner groups from Bangalore for a second consecutive year at the TCS World 10K.

Runner Groups managing the water stations include Bhukmp, Indiranagar Runners, Team Miles Ahead, Infinity Run Club, Shoes on Fire and the Trail Blazers amongst others. Volunteers from the run clubs that will be managing the stations, will not only act as the perfect motivators to their fellow running community but are also trained in basic CPR Training by Fortis Hospital to ensure that they can meet with any emergency response requirements along the route.

Complementing the water stations would be Two Energy Drink stations that will distribute 14,000 Tetra Packs of ORSL and two Fruit Stations stacked with oranges for all the runners.
A total of 1500 Police Officials and 1200 volunteers will ensure the smooth execution of the run.

A Volini Recovery Zone will also be set-up at the finish lines of the race to address any and all recovery needs of the runners, with Volini Recovery Experts providing educated opinion for all runner needs.

Runners will also have the opportunity to warm up with Nike certified trainers, with a warm-up zone that will commence at 5:00 am at Kanteerava Stadium and on their return to the stadium will be served refreshments designed by Nestle, while they watch the best 10KM Course runners complete their last stretch in the stadium.

The run will telecast live between 7.00 AM and 10.00 AM on Star Sports 4 and Star Sports HD4. The Event will be streamed LIVE on the event website: www.tcsworld10k.procamrunning.in