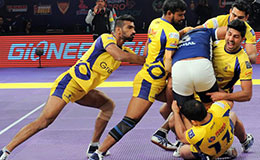 New Delhi: Stung by the criticism of his lost form, Rahul Chaudhari the Telugu Titans' super star came back roaring to lead his side to a 44-35 win over hosts Dabang Delhi K. C. at the Thyagraj Sports Complex yesterday. Rahul who was substituted towards the end after he had accomplished his mission had a dream tally of 17 points for the match. He had three tackle points in that to show for his all-round prowess. Rahul had fine support from Rohit Baliyan who had a super raid of three to his credit.
For Dabang Delhi K.C. who were shot out three times in the match by their rivals their lead raiders Surjeet Singh and Kashiling Adake excelled with 13 and 10 points respectively in a high scoring match which was dominated by the attackers.
The early pace was set up by the winners with Rahul looking determined to wipe out his failures in the last two matches. He contributed four as his team registered the first all-out in the 10th minute at 10-3.
Delhi came back into the match and inflicted an all-out on their rivals to tie the scores at 14-14 in the 14th minute of play. Kashiling sizzled with two consecutive raids of two points each and so did Surjit with one two pointer. Meraj Sheykh tried his level best to avoid the all-out on two occasions when his side was down to two on court. The skirmishes continued with both teams keeping the score ticking. The half-time score of 22-21 in favour of the winners shows the closeness Even till the second all-out the hosts tried to keep pace with the winners. At 26-29 they were within striking distance. But then Rahul struck a purple patch. He ran away with the match single handedly so to say with as many as half a dozen raiding and three tackle points. Rohit too wasn't far behind. He used his big physique to advantage.
The Delhi defence must be commended for some superlative tackles. Ravinder Pahal and Sandeep Dhull had one each on Sukesh Hegde and Meraj Sheykh. The latter as usual contributed with five, including three raid points.
With this their sixth win in 11 matches, Telugu Titans have improved their chances of making it to the last four. They have 33 points and now occupy fourth place above Puneri Paltan whom they meet next in a crucial tie on Friday. Dabang Delhi K. C. have 7 points in 10 matches with just one win.