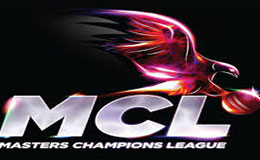 New Delhi: Continuing its commitment to cricket, Oxigen is set to come on board as title sponsor of the Masters Champions League - MCL Twenty20 tournament. With this sponsorship, the much-awaited inaugural season of MCL will be known as the 'Oxigen Masters Champions League'. The action-packed play-off will be held in two renowned International cricket stadiums in the United Arab Emirates viz. Sharjah Cricket Association Stadium and Dubai International Cricket Stadium, slated to kick start on 28 January 2016.
The MCL has also secured Mahendra Singh Dhoni, the current captain of the Indian national cricket team as the brand ambassador. Six teams will take part in the tournament led by an Icon Player and each team has been named after zodiac signs, such as Libra, Gemini, Sagittarius, Virgo, Capricorn and Leo.

The first MCL match has been scheduled with two former teammates, Sourav Ganguly from Libra Legends and Virender Sehwag from Gemini Arabians, leading their teams to play against each other at the Dubai International Cricket Stadium (DICS). Iconic players like Brian Lara, Muttiah Muralitharan, Adam Gilchrist, Paul Collingwood, Brett Lee, Jacques Kallis, Mahela Jayawardene and Kumar Sangakkara among others have also been roped in, in various MCL teams. The final match of the MCL will also be staged at the DICS on 13 February 2016.

On becoming the Title Sponsors of MCL2020, Pramod Saxena, Chairman and Managing Director, Oxigen Services, said, "Enhancing our connect with sports, at an international level, Oxigen is proud to partner with Masters Champions League 2020 as their Title Sponsor. Our love for Cricket is a constant as it connects us to the masses in a cricket loving nation like India. With MCL 2020 we will further Oxigen's global reach, by touching the lives of the NRIs living in the Gulf and other parts of the world, who can fulfill the needs of small payments for their families in India, for money transfers, recharges and utility payments."

Mr Zafar Shah, Chairman, MCL said, "We are delighted to have Oxigen joining us as the title sponsor for MCL. MCL will now be called 'Oxigen MCL'. They are one of the most innovative brands in the world pioneering the genre of wallet-led payments in the online and offline industry. Oxigen as a brand has in a very short span created a niche and legacy in their market. I am sure this will be a long and enriching affiliation for both stakeholders."

Elucidating further on the sponsorship, Meher Sarid, President, Corporate Affairs, Oxigen, commented, "UAE is a melting pot of young professionals with a high percentage of a cosmopolitan populace, which makes it a perfect destination to proliferate brand awareness for Oxigen Wallet. Oxigen has always experienced successful stints with sports and with this sponsorship, furthermore, with this sponsorship we continue to fulfill our objective of uplifting the sport. The tournament is fully approved by the Emirate Cricket Board and is also endorsed by the Federation of International Cricketers' Association (FICA). This patronage serves our long term Global vision."

Riding high on its ongoing affiliation with sports, this sponsorship is following Oxigen Wallet's feat with it brand campaign #Playthehost with The Proteas- South African T20 Team, sponsorship for Cricket All-Star T20 series in the USA and its sponsorship for Kerala Blasters FC for the Indian Super League. In line with its focus and objective, the company earlier also roped in Sachin Tendulkar as its brand ambassador. Oxigen has created history in the prepaid industry in India by becoming a market leader in the mobile wallet space, and are now enhancing their global brand presence to attract Indians, living abroad.