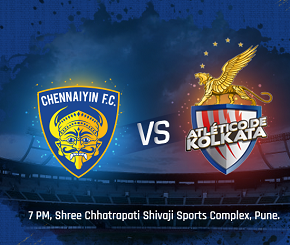 Atletico de Kolkata and Chennaiyin FC will be facing each other in the 1st leg of the 2nd semi-final of the second edition of the ISL in Pune. A very important match for both the sides as a win here will put them a step closer to the ISL trophy.
Here are the list of players to watch out for in the match:
Atletico de Kolkata:
1) Ian Hume: The 30-year-old Canadian has been in tremendous form in this season of the ISL. He has already scored 10 goals and assisted in four. One of the best strikers in the short history of ISL, Hume has been an asset for the Kolkata side this season as he has scored two hat-tricks in this edition. He can take up tremendous amount of workload on himself and is like a hawk in front of the opposition's goalpost, which makes him a constant threat. Gifted with fantastic goal scoring abilities, Hume is described to a complete player as he can both attack and defend and is always ready to give his cent percent for his team. These qualities make Hume such a unique player. He is definitely a footballer to watch out for.
2) Sameegh Doutie: The 26-year-old South African has been one of the surprise packages for Antonio Lopez Habas and ATK. A versatile player, he can play as a winger, striker and withdrawn striker. He started featuring in the final XI since the midway of the league and has been producing wonders since then he has scored three goals and assisted in six. His assets are his hardwork, awesome speed and technical abilities which makes him such an important player for ATK.
3) Jamie Gavilan: The midfield maestro from Spain, has impeccable passing accuracy and precision, bearing the classic Spanish resemblance. Gavilan has been playing a key role for ATK in the midfield, virtually controlling the entire midfield for his team and will have again emulate his regular performance against Chennaiyin FC.
Chennaiyin FC:
1) Stiven Mendoza: The Colombian has been in brutal form in this ISl, with 11 goals and two assists to his name. He, too, has scored two hat-tricks this season and his presence will pose a constant threat to the ATK defence. He was a never ending thirst for goals which is complemented by superb ball controlling abilities, techniques and clinical finishes. Mendoza's movement within the box is what makes him so dangerous. He has been a star for Chennaiyin FC and a lot will be depending on him as his performance can make the difference between the two teams.
2) Jeje Lalpekhlua: Jeje has proved his worth in the team by scoring important goals at very crucial moments. He has everything in him that a striker should have, but what makes him such a dangerous player in the rival box is his opportunity seeking nature. He has the ability to score a goal out of almost nowhere if he is allowed to get even the slightest of opportunities. So apart from a big threat like Mendoza, the ATK defence will also have to deal with him and by no means, he should be underestimated.
3) Bernard Mendy: With players like Hume, Arata, Doutie in the rival camp, a lot will be depending on Mendy. He will have the task of nullifying the opposition strikers and preventing them from scoring goals. Mendy is gifted with height and physicality and is experienced enough to know how to use them to thwart strikers like Hume. It will be extremely interesting to see his battle with the ATK strikers on the field.
BY Dipayan Saha