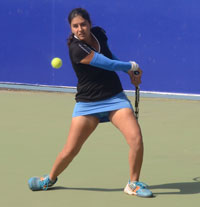 New Delhi: Siddharth Rawat continued his giant killing spree and recorded another fascinating win over top seed Karunuday Singh in the men's singles semi-finals to set up a title clash with Vishnu Vardhan at the Fenesta Open National Championship on Friday.

Defending champion Prerna Bhambri made it to her third successive women's singles final and will play Karman Kaur Thandi in the title clash.

PC Vignesh and Kaza V Sharma notched a 6-3, 6-2 win over Nitten Kirrtane and Saurav Sukul to win the men's doubles title.
Siddharth, who knocked out defending champion Mohit Mayur Jayaprakash on Thursday, came up with another brilliant effort to beat Karunudy 6-4, 6-1.

Vishnu also recorded a hard-fought victory over Ronit Bisht. Vishnu, who was runners-up to Yuki Bhambri in 2011, defeated sixth seed Ronit 6-3, 6(4)-7, 6-4 to sail into the final.

In the women's singles, Vaishnavi Peddireddy could not continue her impressive run and had to concede the match to Karman Kaur Thandi after complaining of shoulder pain.

Having lost the first set 4-6, Karman won the second 6-1 and was leading 3-0 in the decider when Vaishnavi conceded the match.
In the second semi-final of the women's singles, Prerna outplayed second seed Shweta Rana 6-3, 6-2.
Karunuday was leading 3-2 in the opening set when Siddharth switched gears and won three games in a row, breaking the top seed in the seventh. Siddharth served out the set and took confidence into the second set.

The Delhi boy gave no chance to Karunuday in the second set and surged to a 4-0 lead. Karunuday won a lengthy fifth game and took medical time-out. But Siddharth ensured he didn't lose grip on the match and after holding his serve in the sixth game, broke Karunuday in the next to make it to the finals for the first time in his career.

Vishnu relied a lot on his big serves against Ronit who gave a stiff competition to the Tamil Nadu lad. Ronit started well but failed to hold his serve in the fourth game. Ronit found it difficult to exact revenge and failed to break Vishnu in the set.

In the second set, Ronit looked better prepared and forced Vishnu to commit errors. Both the players fought hard and the set went into the tie-breaker where Ronit took his chances to force the match into the third set. Vishnu took the lead in the decider and was leading 4-1 when Ronit bounced back to reduce the lead to 4-5 but then Vishnu held his nerves and brought his experience into play to reach to the finals.

Men's Singles Semi-Finals:

Siddharth Rawat bt Karunuday Singh (Seed 1) 6-4, 6-1
Vishnu Vardhan (Seed 2) bt Ronit Bisht 6-3, 6(4)-7, 6-4

Women's Singles Semi-Finals:

Karman Kaur Thandi (Seed 7) by Vaishnavi PediReddy (Seed 6) 4-6,6-1,3-0 (Retd)
Prerna Bhmabri (Seed 3) bt Shweta Rana (Seed 2) 6-3, 6-2

Boys Under 18 Singles Semi-Finals

Vidit Vaghela bt B.R Nikshep (Seed 3) 7-6(4), 7-5
Dalwinder Singh bt Aryan Goveas (Seed 4) 6-4, 1-6, 7-6(4)

Girls Under 18 Singles Semi-Finals

Simran Kaur Sethi (Seed 1) bt Mehak Jain 6-4,4-6,7-6(4)
Karman K Thandi (Seed 7) bt Abinikka Renganathan 7-5, 6-4

Men's Doubles Finals:

PC Vignesh & Kaza Vinayak Sharma bt Nitten Kirtanne & Saurav Sukul 6-3,6-2

Boys Under 18 Double Finals:

Vashisht Cheruku & S D Prajwal Dev bt Param Pun & Paramveer Bajwa 1-6, 6-4, 10-7

Girls Under 18 Double Finals:

Zeel Desai & Snehal Mane bt Mehak Jain & Shivani Ingle 6-3, 6-3