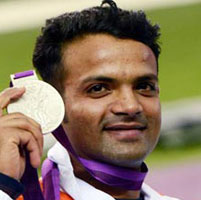 Name: Vijay Kumar
Date of Birth: August 19, 1985
State: Himachal Pradesh
Discipline: Shooting
Achievements:
Won the silver medal in the 25-m rapid fire pistol event at 2012 London Olympics. He finished with an average score of 9.767. Vijay had a score of 293 with 7 inner 10s in the first stage.
Vijay Kumar was on fire in the 2010 Delhi Commonwealth Games where won 3 gold medals and one silver. Vijay won gold in men's 25 metre rapid fire pistol pairs, men's 25 metre rapid fire pistol singles and men's 25 metre centre fire pistol pairs. He won the silver in men's 25 metre centre fire pistol singles.
In the 2006 Commonwealth Games, Vijay had won 2 gold medals, including the individual 25-meter rapid fire pistol competition and the pairs competition in the same event together with Pemba Tamang.
In 2006, he won a bronze medal in the Asian Games despite actually finishing fourth because of a rule that prevented China from winning all three medals. The next year, he finished second at the Asian Championship in 25 metre center-fire pistol.
He also won a silver medal at the 2009 ISSF World Cup Beijing in rapid fire pistol, where he was defeated by Keith Sanderson by 0.1 points.
Awards and recognitions:
Arjuna Award in 2007
Rajiv Gandhi Khel Ratna Award, 2011-12.
1 crore (US$181,000) cash award by the Himachal Government.
50 lakh (US$90,500) cash award by the Rajasthan Government.
3 kg of Gold by Shimoga Gold Palace.
25 lakh by Rifle Association of India.
Promotion from Subedar to Subedar Major by the Indian Army.
Profile:
It wasn't as if Vijay Kumar wasn't a medal prospect in London Olympics, but the focus and expectations were always on his more illustrious colleagues like Abhinav Bindra, Gagan Narang and Ronjan Sodhi. But destiny had something else in store as the big guns except Gagan flopped and when Vijay Kumar shot to glory in a sport considered to be India's best bet, the marksman from Himachal became an instant star.
Vijay Kumar won the silver medal in the individual 25 metre rapid fire pistol event at the 2012 Summer Olympics. He produced a super first round to edge over his fellow shooters before going down in final stages. He was leading at round four. He in this process outplayed the world record holder Alexei Klimov and Beijing's medal winner Ding Feng. Vijay shot 30 shots out of 40 shots to finish four off the leader. In this process he also became the fourth Indian ever to win a medal in Olympics after Rajyavardhan Singh Rathore, Abhinav Bindra and Gagan Narang.
Vijay Kumar hails from Barsar village of Hamirpur district of Himachal Pradesh and is presently a serving Subedar Major in the Dogra Regiment (16th Battalion) Indian Army. Vijay is currently supported by the Olympic Gold Quest initiative. He has been posted at Army Marksmanship Unit (AMU) Mhow since 2003 where he is being coached by the Russian Pavel Smirnov.
Compiled by Rajveer Singh