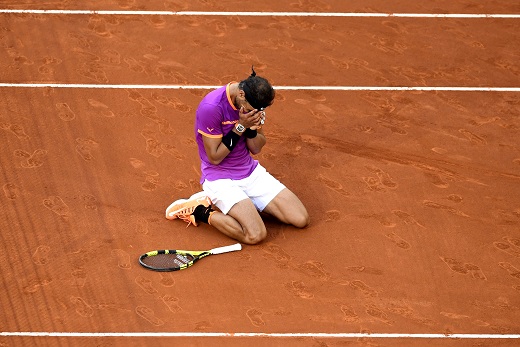 It's the kind of season in men's tennis where 2017 is looking like the new 2007-08 -- the good old times are back. Past their prime? What past their prime, stop all nonsense and roll back the years.
And so the story that started at the Australian Open, French Open and Wimbledon, came to a full circle at the US Open final -- the fourth and final Grand Slam Tournament -- as Rafael Nadal completed an equal share of the 2017 loot with Roger Federer. The 31-year-old, humble champion, Nadal, is back at No. 1, and defeated his opponent Kevin Anderson of South Africa in straight sets 6-3, 6-3, 6-4 and became the deserved champion of the US Open. This was Nadal's third US Open Championship and his first since 2013.
More than anything else, this win was about Nadal overcoming himself, his injuries, his scar tissues, this was more about confronting his present day challenges rather than repeating his past heroics and his triumphant performance stands a testimony to how beautifully Nadal has overcome this challenge. Like his rival of all times, the 36-year-old Roger Federer, Nadal came back after an injury, and like him claimed 2 Grand Slam Titles this year.
Brad Gilbert, the senior coach has called this year as the year of "Fedal Slam" (Federer and Nadal Slam), and why not, both the champs have proved that when one reaches a certain level it is one's passion to perform that keeps him/her going and motivates them to give in their 100 %, day in and day out. It has been a sort of nostalgic session for Tennis, but only in part- because of the injuries and physical issues faced by Nadal and Federer's traditional rivals. None of the three men who won major titles in 2016- Novak Djokovic, Andy Murray and Stan Wawrinka were able to play this year's US Open.
Nadal was outstanding in the finals and always remained ahead in the match, keeping Anderson off balance and out of position with his superb display of shots and skills with accurate timing. Nadal was fantastic while serving and faced no break points, while constantly putting Anderson under pressure in his service games.
Throughout his career, Nadal has been fantastic on clay courts, however, Nadal has now won six major titles on other surfaces, on hard courts and on grass court. Nadal and Anderson have played many junior tournaments together and Anderson shared one of their cute pictures together through his twitter account. On Sunday, they clicked many more pictures together but as has so often been the case it was Nadal who was holding the Trophy.
And from what it seems from the outset, it is probably not his last, and many more trophies are yet to come his way.
"You have been an idol of mine," Anderson told Nadal after the final.So you have been to all of us Rafa!