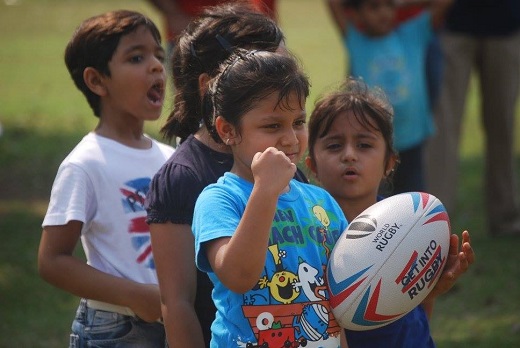 New Delhi: As per the World Rugby's Get Into Rugby (GIR) Statistic report 2016, India now stands at 2nd position in Asia to have seen highest participation in the GIR programs and holds the 5th position globally. Japan maintained it's first position in Asia and Worldwide.

The Indian Rugby Football Union (IRFU), aka Rugby India, introduced the 'Get into Rugby' program in 2012- a World Rugby initiative, to promote and grow the sport globally. The program is focused on introducing Rugby, the sport to enthusiasts and throw light on the values of the game - Integrity, Respect, Solidarity, Passion and Discipline, which inspire millions of kids to choose and play the game globally.


As per the World Rugby Get Into Rugby (GIR) Statistic 2016, India has seen a tremendous growth in the number of players playing Rugby from 2012 to 2016. The total numbers of Male Players have grown from 13,135 in 2012 to 61,194 in 2016. That represents a 350% increase over 5 years. The total numbers of Female Players have grown from 5,355 in 2012 to 42, 032 in 2016. This represents a 600 % increase over the last 4 years. The total numbers of players in India have increased from 18,490 in 2012 to 1,03,226 in 2016. Increase is 450 % over 5 years.

Mr. Mahesh Mathai, Secretary General, Indian Rugby Football Union said, "The GIR initiative has given Rugby the much needed push in India. We are extremely positive and ambitious about seeing huge growth of Rugby in India through the GIR platform. When it comes to growing rugby nationally, resource and fund allocation remains to be a deterrent. Thanks to Societe Generale and their cooperation, we can now participate in international Age grade rugby tournaments which will ultimately help us popularize the sport and build a strong national team to compete at a global level."

Mr. Nasser Hussain, General Manager, Rugby India said, "We have received overwhelming response to GIR in the Age grade categories across the country. This initiative has also helped us find some very talented and passionate players, who are making us proud by competing and achieving accolades at international levels. In the month of August, Indian U18 Boys team participated in the 2nd Asian School Rugby Sevens Championship 2016 at Hong Kong, China under the aegis of School Games Federation of India (SGFI). And again in month of November the Indian National U18 Girl's Team participated in the Asian U18 Girls Sevens tournament in Dubai and they secured 3rd position".

In India, Rugby has seen some overwhelming support from various partnerships that have materialized over the last few years. Recently, Societe Generale, one of the largest European financial services groups announced their partnership with Rugby India. Through this partnership Societe Generale aims to train, develop and groom national level players. The financial services groups is also assertively supporting the 'Get Into Rugby' program, an initiative aimed to harness the potential sports talent from the grassroots in the country, especially at locations where resources are limited. Through this initiative, Societe Generale is committed to make Rugby accessible to everyone and build a strong national team to compete at the global level.

The GIR initiative is in line with the inclusion of the sport in the National School Games. Rugby is a permanent discipline in the School Games Federation of India (SGFI) and was part of 60th, 61st and 62nd National School Games for U19 & U17 Boys and Girls. The GIR initiative represents a major breakthrough for India Rugby. Through the 3 stages of Get Into Rugby program implemented across India, schools have been able to gradually progress to 7-a-side rugby in the last few years. The players who represented their schools in the first two phases (TRY and PLAY phases of the GIR program) can then move to the third phase and get selected to play for their district and their state (STAY phase of the program).
Key Highlights of World Rugby's Get Into Rugby (GIR) Statistic report 2016
Asia Rugby Unions in 2016
Union

Boys

Girls

Total

Japan

109 748

79 886

189 634

India

61 194

42 032

103 226

Brunei

40 069

38 801

78 870

Pakistan

38 348

20 733

59 081

China

30 571

16 762

47 333

Chinese Taipei

15 644

2 219

17 863

Sri Lanka

10 837

3 108

13 945

Malaysia

10 495

1 812

12 307

UAE

7 229

4 258

11 487

Kazakhstan

7 668

2 730

10 398

Hong Kong

5 008

3 836

8 844

Philippines

6 727

2 082

8 809

Thailand

7 302

1 162

8 464

Nepal

4 066

2 743

6 809

South Korea

3 893

2 618

6 511

Iran

2 701

2 381

5 082

Singapore

2 797

1 588

4 385

Mongolia

1 800

1 600

3 400

Uzbekistan

2 028

1 085

3 113

Indonesia

1 130

745

1 875

Bangladesh

1 780

0

1 780

Lao

729

989

1 718

Jordan

1 032

325

1 357

Vietnam

632

705

1 337

Guam

737

544

1 281

Syria

97

87

184

Macau

130

12

142

Kyrgyzstan

37

26

63

Lebanon

0

0

0

Afghanistan

0

0

0

Qatar

New Union to start in January 2017
Top 30 Unions globally in 2016

Japan

189 634

South Africa

176 889

Brazil

118 500

Colombia

111 607

India

103 226

Russia

87 969

Canada

87 078

Kenya

83 852

Brunei

78 870

Pakistan

59 081

Spain

57 624

Poland

56 884

Portugal

49 846

China

47 333

Mexico

44 568

Peru

36 310

Uruguay

35 320

Romania

32 153

Fiji

30 061

Venezuela

24 909

Madagascar

21 360

PNG

19 809

Rwanda

19 114

Chinese Taipei

17 863

Netherlands

17 096

Argentina

16 740

Sri Lanka

13 945

Malaysia

12 307

Swaziland

11 742

Paraguay

11 738